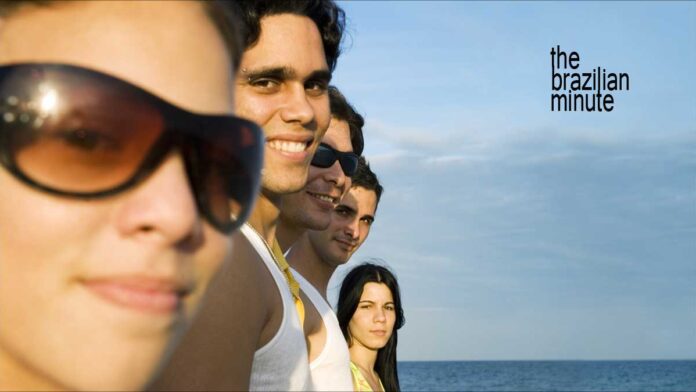 Brazil boasts one of the world's most diverse cultures. It's a Melting Pot nation, just like ours.
Brazil's Melting Pot Diversity: Many countries welcome immigrants. But few embrace migrating peoples and their cultural contributions quite like Brazil.
This series was presented by the Consulate-General of Brazil in Chicago and the Brazilian Foreign Ministry's Cultural Department.
In celebration of Brazil's Bicentennial year, 1822 – 2022
This week's Brazilian Minute: Brazil's Melting Pot Diversity
Script from Audio:
Brazil boasts one of the world's most diverse cultures. It's a Melting Pot nation, just like ours. Now that we're celebrating Brazil's Bicentennial, it's fair to ask: Where do all these Brazilians come from?
Brazil has the world's largest population of Portuguese origin, greater than Portugal itself. Brazil has the most people of Italian descent living outside of Italy. That's true for the Japanese, and for Lebanese, too.
After the USA, Brazil has the second-largest population of German descent outside of Germany, and here's a surprising fact:
Even though Brazilians speak Portuguese, Brazil has become home to the largest number of Spanish settlers outside of Spain. More Spaniards have emigrated to Brazil than all of Spain's former colonies combined!
Read and listen to new weekly episodes of The Brazilian Minute.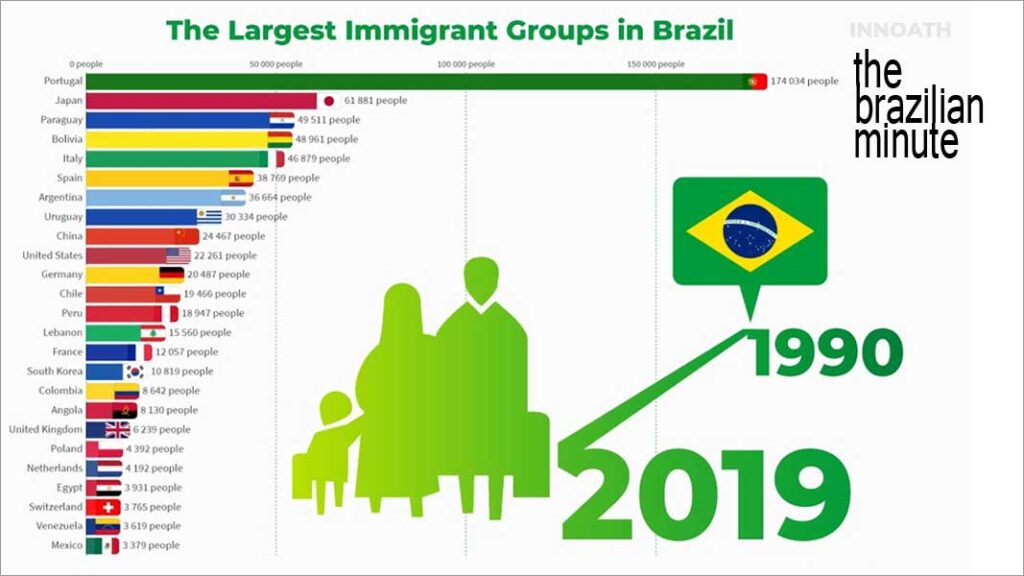 More on: Brazil's Melting Pot Diversity
Overview: Stirring Brazil's Diversity Pot
A stroll along Rio de Janeiro's shoreline sidewalks in the mid-1800s would have provided a curious sight. Gentlemen sported long-tail coats, with top hats and walking canes. Ladies wore full-length dresses with open necklines and long sleeves, with matching parasols.
The fashions of the day came from Lisbon and Paris, courtesy of migrating merchants from the Old World. Not well-suited for daily life near the Tropic of Capricorn.
Today, Cariocas dress more comfortably for a day at the beach. They'll head for one of Copacabana's kiosks (a Turkish word) to enjoy a cold chope from German-Brazilian brewmasters. Maybe an order of Japanese sushi. Or perhaps deep-fried kibe, tasty croquettes of beef and mint brought to Brazil by Lebanese immigrants.
Many countries welcome immigrants. But few embrace migrating peoples and their cultural contributions quite like Brazil and its Melting Pot diversity.
Early Melting Pot History
From its earliest days as a colony of the Portuguese Empire, Brazil has attracted migrants from all points on the map.
The history of proper immigration began in 1808. This was the year that Brazil opened its southern ports to accept migrants.
By 1820, a small but steady flow of European immigrants arrived on Brazilian shores. They were ready to begin new lives in the newly-created nation.
Migrants averaged about 6,000 per year, with 45% arriving from Portugal. Germans were the second-largest group, accounting for 13%. They settled in the southern regions of Brazil, centered around Rio Grande do Sul.
The Great European Wave
Fifty years later, Brazil's annual immigration rose to about 71,000 per year. It was the beginning of a new period of growth for Brazil.
Many Central Europeans were looking for new opportunities and better lives for their families. They wanted to be free from high taxes and restrictive government control over their lives.
Migration to Brazil swelled to 2-3 million arrivals annually between 1872 and 1930. Italian migrants numbered the strongest in the last part of the 19th century. Portuguese settlers led the diaspora through most of the 20th century.
Brazilian Abolition occurred in 1888 with Princess Isabel signing the Lei Áurea, the 'Golden Law'. This decree provided job-based opportunities for its newly-arrived citizens.
Japan
Brazil has the unique distinction of having the most people of Japanese descent anywhere in the world outside of Japan. Many came largely to São Paulo as farmers and agriculturalists.
Japanese migrants first began to arrive in Brazil in 1907. Many became owners of coffee plantations. Their numbers increased through the mid-1930s, with a second surge in the late 1950s.
Today, Japanese-Brazilians enjoy a measure of social recognition for their contributions through various endeavors. These include business and entrepreneurship, the Arts, urban planning, land development, politics, resource management, and sports.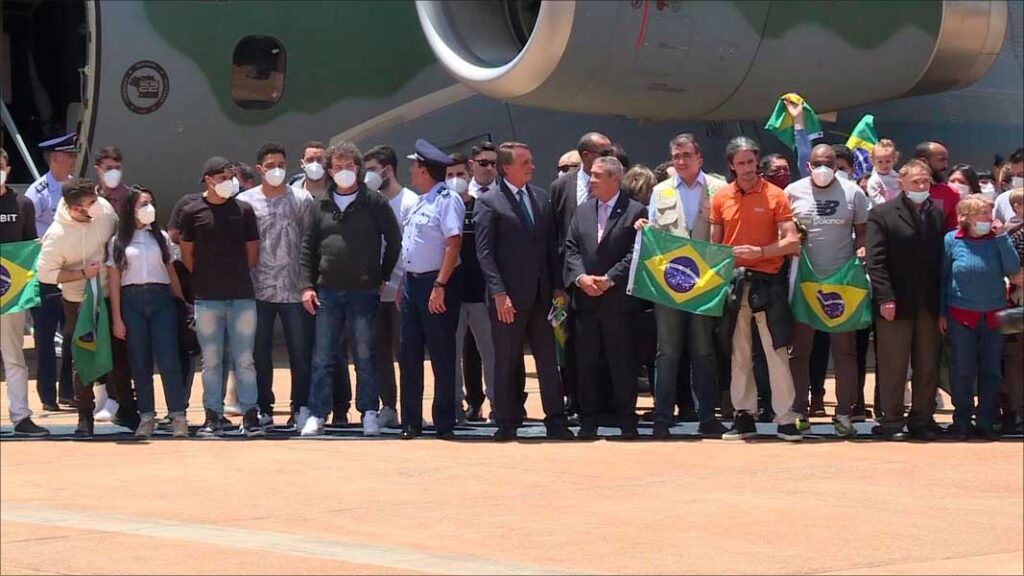 Humanitarian Visas
Since the early 2000s, Brazil's Humanitarian programs have welcomed hundreds of thousands of affected people from around the world, just as it did during World War II.
For instance, the crisis in Haiti after the 2010 earthquake was met with swift action by Brazil. It offered humanitarian visas or permanent residency to nearly 100,000 displaced Haitians.
Brazil's 'Declaration and Plan of Action' was so effective that it has been adopted by 28 Latin American countries as a blueprint for future needs. Brazil's innovation includes the creation of new visa categories for refugees and displaced people.
Subsequently, Brazil has become a leader in the Western Hemisphere for addressing humanitarian concerns.
With funding from the United Nations, Brazil aided the relocation of 1,500 Syrian refugees in 2016. A similar program was designed for Venezuelans that same year.
Then, In March 2022 Brazil once again extended a welcoming hand to Ukrainian nationals and those affected by displacement due to Ukraine's conflict with Russia. Brazil is issuing temporary humanitarian visas and residency permits.
According to the Associated Press and Scripps International, Brazil is home to the largest population of Ukrainians (and their descendants) in Latin America. According to the Ukrainian Embassy, the population estimates are between 500,000 and 600,000.
On Monday, March 28th, 2022, 47 more Ukrainians were welcomed to Brazil at São Paulo's Guarulhos Airport.
Music, Travel, Friends and Fun! 2022 marks Connect Brazil's 25th year.
Brazil's Melting Pot Diversity
Did you enjoy 'Brazil's Melting Pot Diversity'? If you did, why not join us at Connect Brazil?
Sign up for our emails on Brazilian music, travel, friends, and fun. Listen to our 'always live' streaming station and streaming music channels, always free. Visit us on Facebook, and Twitter, and browse our Lifestyle Directory for Brazilian events coast to coast.