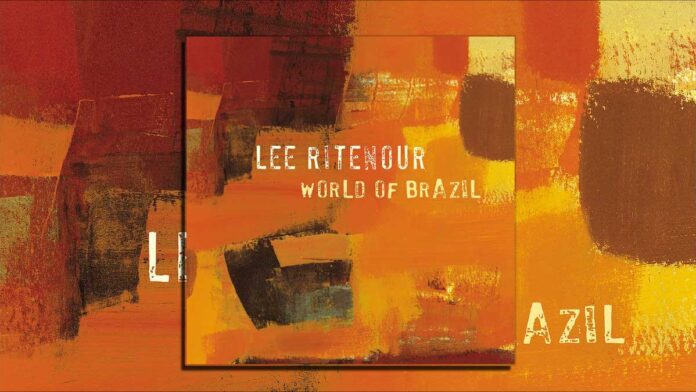 Lee Ritenour's World of Brazil is a best of collection that makes it pretty easy to make the case for the popularity of Brazilian Jazz.
And to help you get to know how strong this creative connection flows between Lee Ritenour's guitar and the land of Samba and sun, I've decided to post the liner notes that Lee asked me to write for his World of Brazil album.
Enjoy! – Scott Adams
Lee Ritenour's World of Brazil
Chances are pretty good that Lee Ritenour never met up with Brazilian singer Nara Leão. Chances are equally good that if they had, Nara would have approved.
Back in the late 50's, Nara, the teenage daughter of socialite parents who kept a neat Copacabana high-rise pad, would regularly throw all-night parties for the soon-to-be stars of Bossa Nova – names like Menescal, Boscoli, Mendes, Gilberto and Jobim.
At the time, Nara was nothing more than a 'Super Fan' – her appointment as Brazil's musical muse would come soon enough – but that beachfront address on Rio's famous Avenida Atlântica became a second home for these visionaries, a melting pot for new ideas. New friends.
That's the Brazilian way.
Lee Ritenour's Brazilian Odyessy
And it still held true many years later for Lee Ritenour, who made his first visit to Brazil in 1973. He remembers it as if it were yesterday:
"I went there on vacation when I was 21 and had the chance to meet Oscar Castro-Neves. Not long after, I was invited to a party at Sergio Mendes' house, and that was the night I met Dave Grusin.
"Antonio Carlos Jobim was also there, along with Oscar and lots of guys from Sergio's band, and there was a lot of jamming, so it was quite something.
"I guess you could say that party was the beginning of a big part of my career going forward."
A Landmark Album
This collection picks up Lee's Brazilian trail in 1985 with Harlequin, his legendary collaboration with pianist Dave Grusin.
The title song, "Arlequim Desconhecido," yielded our American introduction to singer Ivan Lins, and set Ritenour on a path that he would follow with several other Brazilian singer/songwriters in the coming years.
In 1987, Djavan was invited into the studio for Lee's Portrait album to recreate his hit song "Asa."
In May of 1988, Caetano Veloso and João Bosco flew north to New York, recording their songs "Linda'"and "Latin Lovers," respectively, for Lee's Festival; and Lee returned the favor a year later by flying the master tapes down to São Paulo for Gonzaguinha to sing his memorable anthem, "É," for the Color Rit sessions.
The distance of years shows that each of these vocals stand as milestone recordings for all concerned: Ivan and Djavan went on establish themselves here in the US, Caetano began his inevitable march towards musical universality and João still sings 'Latin Lovers' on tour, no doubt due to the worldwide popularity and critical acclaim that grew from his collaboration with the American guitar player.
Get our Weekly E-Letter!
Brazil's Superstar Singers
Lee's passion and foresight succeeded in raising the bar for Brazil's best, with brilliantly conceived arrangements and talented musicianship – and each Brazilian singer, in turn, responded to the invitation with his own definitive performance.
"Caetano told me later that he was pretty nervous," Lee recalls. "That was the rhythm section with Dave Grusin, Omar Hakim, and Anthony Jackson.
"We were rehearsing "Linda" in the studio, getting the arrangements and guitar parts just right and we were really ready for him.
"Caetano had barely taken off his jacket when he heard this wonderful arrangement from the control room. He was so overwhelmed that he told me later, 'How can I just step into that and start singing?'"
"In each case, there was an electric energy.
"With João and Djavan, their rhythm guitar parts were so outstanding you could really sense that they were as thrilled to play with us as we were with them, and Ivan was completely like 'one of us' already; he understood our music, we understood his music – the way he composed, the way he liked to groove.
"When we did Harlequin, it was a match made in heaven."
Instrumentals Shine
In the songs-without-words department, The World of Brazil finds Rit with several tunes that capture his role as a true advocate for the place of Brazilian music in contemporary jazz.
From the samba pulse of 1985's "San Ysidro" to 1987's bossa-wrapped "Windmills" and then on to 1989's "Bahia Funk," it's apparent that Lee, unlike many who have tested the waters and moved on, had discovered that his early flirtations had grown into a lasting love affair with Brazilian music.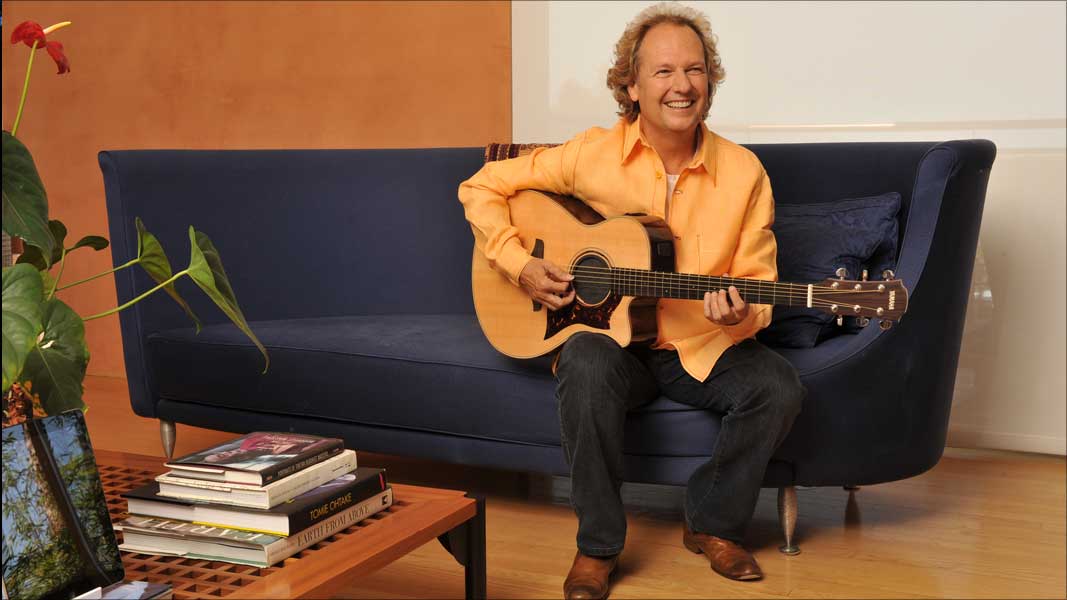 "I was very proud that I had a grasp of Brazilian music and wanted to be respectful of the authentic nature of these songs," says Lee.
"Yet I was adding my guitar and bringing a jazzier 'Ritenour' flavor to it, so I wanted to make sure that it felt very Brazilian."
"Later, with A Twist of Jobim, I was confident enough to purposefully do a reconstruction – my way of approaching Brazilian music.
But that was very different than those 80's songs, where I wanted to keep everything 'right in the pocket'."
That 1996 recording reunited Lee with Dave Grusin and an equally stellar supporting cast.
Jobim With A Twist
By this time, Lee's appreciation of Brazilian music had focused on Brazil's top composer and his sensitivity and respect for Jobim's intricate harmonies and musical nuance.
Lee's oversight of these talented ensembles speaks as strongly as any of his solo work on these songs.
That's El DeBarge and Art Porter trading phrases on "Dindi," with an arrangement that carries all of the poignant grace of the composer's intent.
And "Stone Flower" provides a deeply jazzy foundation for Herbie Hancock with Ritenour's rhythm guitar in close support.
But it only takes the opening strains of "Water To Drink" to remind us that music is best when shared with friends.
With Rit, it seems that it just couldn't be any other way. And in case you're wondering who selected the songs for The World of Brazil – well, that was Lee's job, too.
"I really have a passion for many different kinds of music, but Brazilian music and jazz are at the top of the list for me. It still touches me today.
For instance, I'll catch a Brazilian song that I've heard a million times and it still just takes me away."
Okay, Lee. Take us away. Again.
Lee Ritenour's World of Brazil
Stories like 'Lee Ritenour's World of Brazil' are what we do. Why don't you join us?
Sign up for our emails on music, travel, friends and fun. Listen to our 'always live' streaming station and our 12 streaming music channels, always free. Browse our Lifestyle Directory. Click here to like our Facebook page and here for Brazilian events coast to coast.
And here's my 'One Track'… enjoy!
Lee Ritenour's World of Brazil