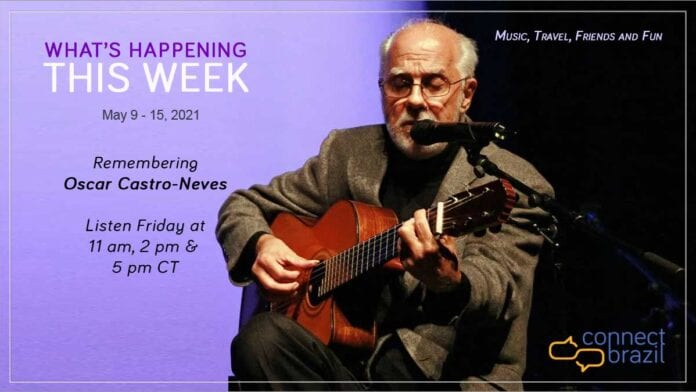 Remembering Oscar Castro-Neves on his birthday. Connect Brazil's weekly digest keeps you informed and up to date with the best of Brazil. What will you discover?
---
Remembering Oscar Castro-Neves during his birthday week is always a happy occasion. The Bossa Nova guitarist was a longtime friend of The Sounds of Brazil from our radio show's earliest days.
For all of his 73 years, Oscar Castro-Neves had an enthusiasm for life that was both infectious and unmistakable. You could hear it in his voice.
You could hear it in his music, too. For Oscar, melody and counterpoint would flow and weave about like a Brazilian caipirinha , an unexpectedly smooth and deceptively potent mixture of freshly squeezed limes, sugar and pinga cachaça (Brazil's barely-aged sugar cane rum).
This effervescence for life also helps us in remembering Oscar Castro-Neves as a de facto Cultural Ambassador for Brazilian music on five continents. continue reading…
Listen Live this Friday
Be sure to listen to our streaming station this Friday, top of the hour, at 11 am, 2 pm, and 5 pm CT for two in a row. We're remembering Oscar Castro-Neves on his birthday, and I hope you'll join me.
Use the Connect Brazil Listening Lounge: Always free, always live.
Scott Adams, Midday Host
TOP STORIES
Lifestyle: It's Mother's Day, here and in Brazil. Here's a mother and daughter story you're sure to enjoy.
Music: Looking for a springtime soundtrack? Try Toco's sophomore album.
Food & Drink: We're sharing a breakfast recipe: Our Brazilian Coconut Mango Bowl.
People: Remember Tania Maria's 'Come With Me'? She celebrates this week. It's our video list of May's musical birthdays!
Picture of the Day: Folks you don't even know love our daily images. You will too.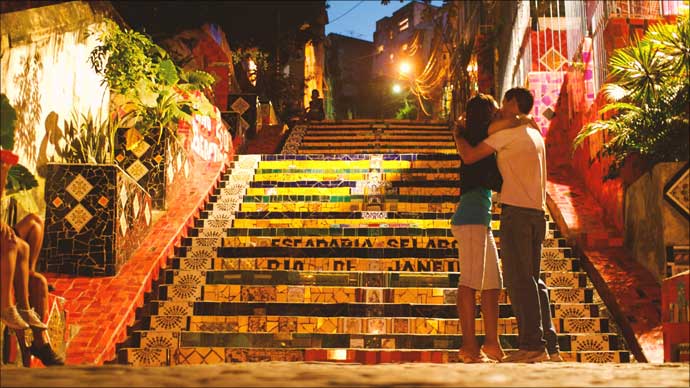 Connect Brazil's Weekender arrives in your inbox this Thursday! Read a current issue and sign up here.
STREAMING MUSIC NEWS
Bebel Gilberto is in the spotlight this week, just in time for her birthday. Settle in with two hours of favorite songs on The Sounds of Brazil. Listen 4 X daily and on-demand through May 9th. The playlist and Producer's Notes are here.
ON OUR STREAMING STATION
Let The Music Take You There! Our streaming station is a jazzy blend of breezy bossas and crossover hits from both sides of the equator. Always free and always live, this is music you can live with!
Treat your ears to our unique blend. Our streaming station is the perfect choice for the sunshine season. Listen for these songs this week during The Midday Show with Scott Adams (M-F, 9 am to 3 pm CT).
'Que Nem Maré' – Jorge Vercillo
'Zabumbaia' – Antonio Adolfo (Instrumental)
'Begin The Beguine' – Gal Costa
Listen for these songs and thousands more on our always-live streaming station, and click here for all of our streaming music channels.
Best way to listen? Connect Brazil's Listening Lounge.
Brazil Back2Back
Always two-of-a-kind and always two in a row when you listen at the top of the hour, at 11 am, 2 pm, and 5 pm (US Central) Monday, Wednesday & Friday.
Here's this week's lineup:
Monday, May 10 – Jazz Sambas
Wednesday, May 12 – Bebel Gilberto on her birthday
Friday, May 14 – Remembering Osacr Castro-Neves
Next week on Brazil Back2Back:
Monday, May 17 – Pianist Gregg Karukas
Wednesday, May 19 – Happy birthday Ivete Sangalo
Friday, May 21 – Bossas da Gema
Visit the Listening Lounge to listen live, for real-time playlists or to request a song.
Spotlight Song: Tania Maria 'Come With Me'
Listen to this song on Connect Brazil's always-live streaming station, 24/7, worldwide.
EVENTS
Connect Brazil's Events section has the early line on entertainment recommendations for Spring with more live venues, and club dates added regularly. And musicians can post their events for free, anytime.
We have a full slate of streaming and virtual events for pianist Gregg Karukas posted. Enjoy live club dates and livestream Brazilian jazz concerts with Philly's Minas, or St. Pete's Nate Najar Trio with Daniela Soledade, You'll find virtual Brazilian cooking and Zumba classes, even the return of Brazilian Jazz to San Antonio's Riverwalk.
Plus your pick of full length, on-demand virtual Brazilian jazz concerts, too.
Click here to browse upcoming events.

THE BRAZILAIN COMFORT FOOD GUIDE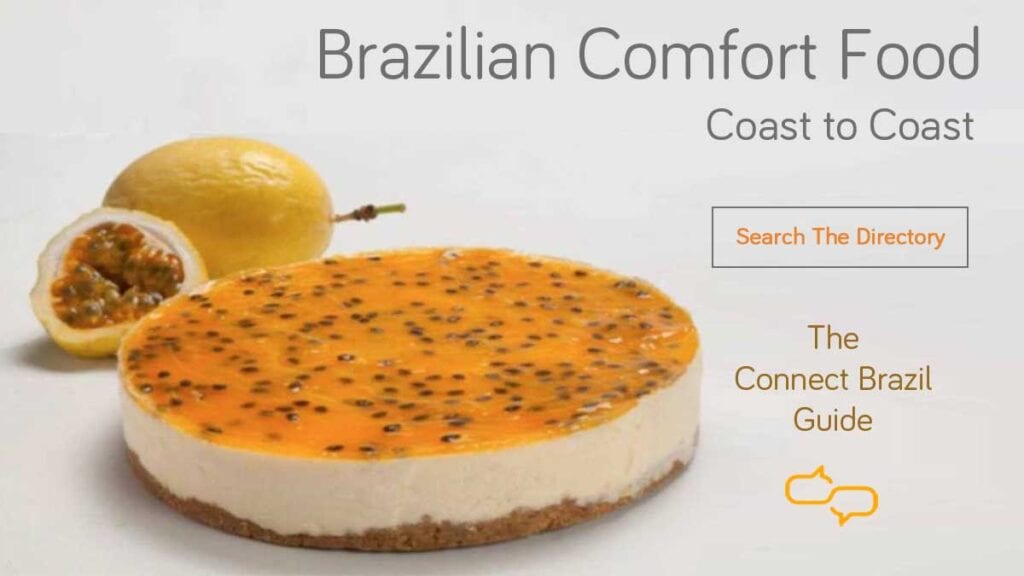 Browse Brazilian eateries, cafes and markets near you, coast to coast
Africa, Portugal, Japan, and Italy. America and indigenous Brasil. Hundreds of family-owned Brazilian restaurants, coffee houses and cafes, bakeries, and grocery markets coast-to-coast are ready to share these international influences with you and your family.
Connect Brazil is donating its services to spread the word about the tasty rewards of your patronage.
We hope that you will do the same by placing an order soon with an eatery near you. Your support makes everything taste better. Even Brazilian cheesebreads!
Remembering Oscar Castro-Neves: Connect Brazil This Week
Stories like 'Remembering Oscar Castro-Neves: Connect Brazil This Week' are what we do. Why don't you join us?
Sign up for our emails on music, travel, friends and fun. Listen to our 'always live' streaming station and our 12 streaming music channels, always free. Browse our Lifestyle Directory. Click here to like our Facebook page and here for Brazilian events coast to coast.