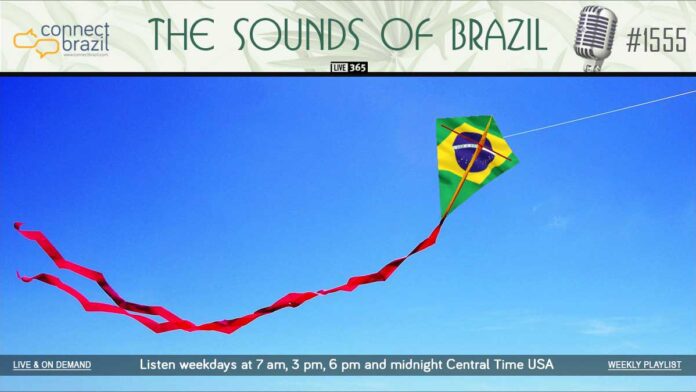 Spring Into Brazil
'Spring Into Brazil' is produced for your listening pleasure by Connect Brazil. Live365.com is the official streaming radio partner for The Sounds of Brazil!
| Air Date: 03-19-23 through 03-26-23
| On-Demand: 03-19-23 through 04-02-23 here.
This two-hour program airs 4X daily on our streaming Station. You are invited to listen, Monday to Friday at 7 am, 3 pm, 6 pm, and midnight Central Time (US). Weekend times, too:
On The Radio: Listen to The Sounds of Brazil every Sunday, 2-4 pm on Chicago's 90.9 FM WDCB and streaming live at wdcb.org.
On-Demand: Click here to listen to this program anytime through April 2, 2023.
Sign up for our emails on music, travel, friends & fun. Click here to like us on Facebook.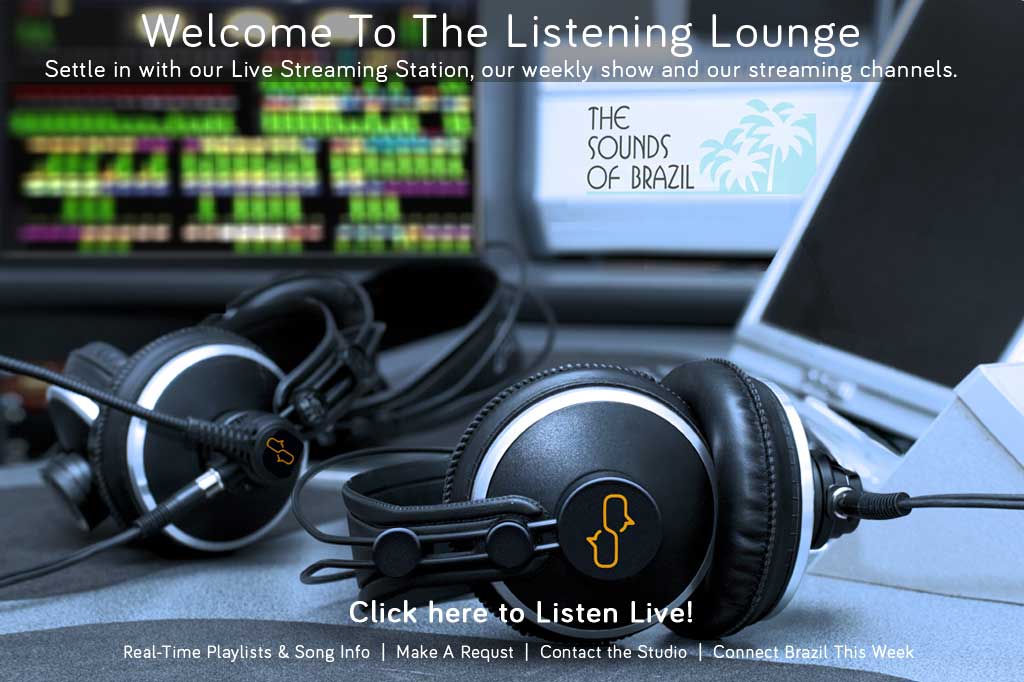 Daily Listening Schedule | Time Zone Converter | Connect Brazil This Week
Make A Request | Send a message to Scott
Welcome to The Sounds of Brazil!
Tuesday brings a much-anticipated change of seasons, and we know that the Spring of 2023 will once again be better than last year. Our friendships, our faith, and yes, our music brings us closer to our lives and our lifesyles. Rebirth and renewal… that's Spring!
But Spring can be the most fickle of seasons, especially here in Chicago. Remember last year? We were braving wind chills that drove the cold into single digits. This year? It was 23 above (not counting the wind chill) just a day or two ago. "In like a lion, out like a lamb?"  We can only hope…
But all too often, the calendar says one thing and Mother Nature laughs…
So, if you are one of those who has as many inches of snow on your driveway as we are days until Spring, then this week's program should help you get through.
For sun lovers (and many Brazilian music fans), spring is the season we look forward to most, and if you're in the mood for some spring cleaning – or just want to revitalize – here are a few tuneful ways to add a little more of Brazil into your life this week.
'Spring Into Brazil' with me for two hours of season-changing favorites! From Djavan to Deodato, from budding Nu Bossas to spritely jazz Sambas!
Thank you – as always – for listening.
Scott Adams
Wednesday's Brazil Back2Back pulls together a pair of songs from our New Music playlist! Listen at the top of the hour, 11 am, 2 pm and 5 pm CT, exclusively on our streaming station. Daily Listening Guide.
~ ~ ~
Sunday's Brazilian Brunch celebrates the arrival of spring with 'A Brazilian Bouquet' and the softer side of Brazilian song! Only on Sundays at 5 am, 9 am, 2, and 8 pm Chicago time and only on The Sounds of Brazil webstream. And read our Brazilian Brunch preview every Sunday from our home page.
~ ~ ~
Like us on Facebook: There's always something musical going on with our Facebook page for The Sounds of Brazil, and it's easy to enjoy Connectbrazil's fan page too. 'Like' them both, so you won't miss any of the sun-season fun we're planning for you!
~ ~ ~
Always a great story on Connectbrazil's home page. It's a great way to add a little more 'Brazil' to your life. Read up on our Spring Fever Sambas Music Showcase, the secret story behind The Waters of March, and more. Our directory is there, too. Things to do, places to go!
~ ~ ~

This week's show:
Spring Into Brazil
Hour 1:
Set 1: The Sounds of Brazil Opening Theme
Bird of Beauty<>Marilyn Scott/Take Me With You
Flying To Bahia<>Caibedo Island/Caibedo Tale
Mane Joao<>Erasmo Carlos/Samba Soul Groove
Welcome to The Brazil Club Lounge
Maya's Gift<>Oscar Castro-Neves/Tropical Heart
Special Announcement
Set 2:
Introduce Next Set
Begin The Beguine<>Gal Costa/Plural
Border Line<>Deodato/The Crossing
Introduce Next Set
Linha Do Equador<>Djavan/Coisa De Escender
Gratidao a Natureza<>Gabriel Martins/Mergulho
O Que Sera<>Vanessa da Mata/Rio
Set 3: Introduce This Week's Spotlight Song
Quando Voce Voltar<>J. Marino & Friends/My Little Town
Boss-A-Nova<>Geneve 5/Subtly
Brazasia<>Yutaka/Brazasia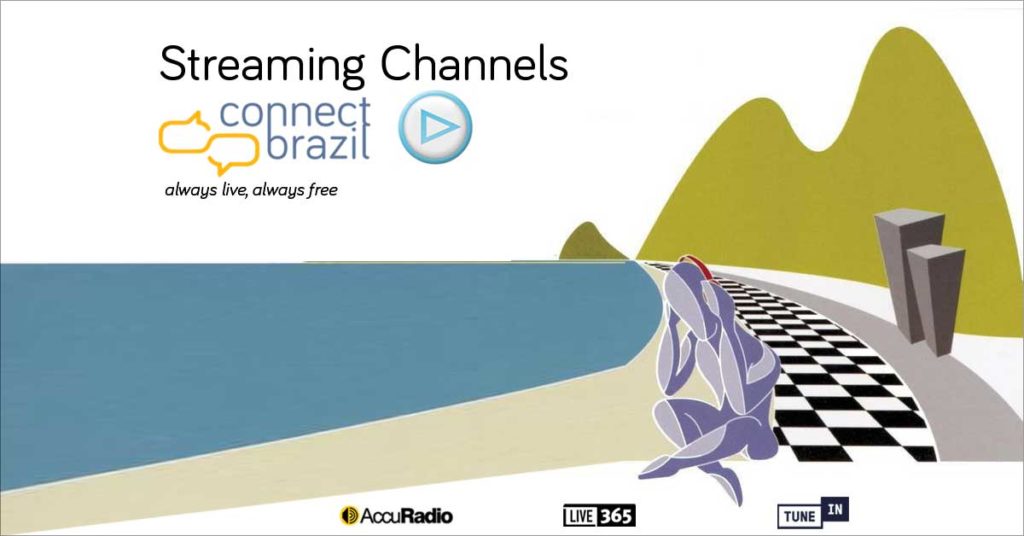 Spring Into Brazil
Hour 2:
Set 1:
Sulla Vespa<>Mazzachigno/Cafe Roma Vol 2
Eu E O Meu Amor Medley<>Nilson Matta/Black Orpheus
Welcome To Our Second Hour
Amor de Muito<>Chico Science/Brasil2 Mil
Better Days Ahead<>Pat Metheny/Letter From Home
Barefoot<>Eliane Elias<>Two Way Street
Special Announcement
Set 2:
Introduce Brazil Back2Back: Joyce Moreno
Upa Neguinho<>Joyce/ Astronauta
Waters of March<>Joyce & Dori Caymmi/Astronauta
Introduce Next Set
Os Grillos<>Marcos Valle/Brazilian Love Affair
Pepe<>Ricardo Silveira/Small World
Another Season<>Keyvn Lettau/Another Season
Set 3:
Spring<>Dori Caymmi/Kicking Cans
Long Time Coming<>Bill Cunliffe/Bill In Brazil
Un Beijo Na Boca<>Latin Vibe/Latin Vibe
~ ~ ~
Next week, we'll celebrate Astrud Gilberto's birthday with two hours of her very best tunes! What a great way to wrap up the month with our 'Songs In The Feminine Key' theme!
I hope you'll enjoy the show and please – tell a few friends about us, Sundays at 2 pm Central on 90.9 FM WDCB. It's always great to share the music.
Always a pleasure,
Scott Adams
The Sounds of Brazil!
View our complete daily broadcast schedule here.
AccuRadio.com: Listen to all of our award-winning streaming Brazilain channels at AccuRadio. Apps for Apple, Android, and more here.
Spring Into Brazil