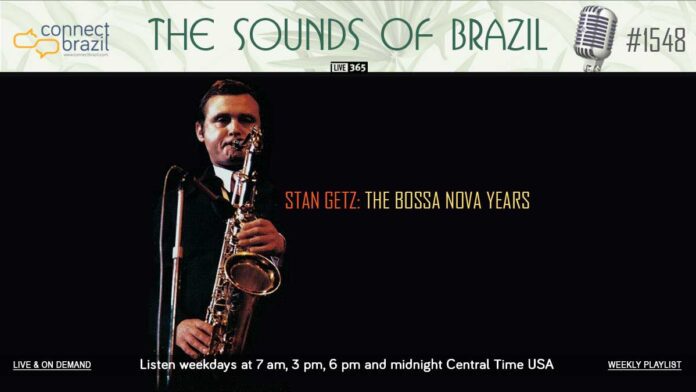 Stan Getz Bossa Nova
| Air Date: 01-30-22 through 02-05-22
| On-Demand: 01-30-22 through 02-13-22
Stan Getz Bossa Nova is produced for your listening pleasure by Connect Brazil. Live365.com is the official streaming radio partner for The Sounds of Brazil!
This two-hour program airs 4X daily on our streaming Station. You are invited to listen, Monday to Friday at 7 am, 3 pm, 6 pm, and midnight Central Time (US). Weekend times, too:
On The Radio: Listen to The Sounds of Brazil every Sunday, 2-4 pm on Chicago's 90.9 FM WDCB and streaming live at wdcb.org. 
On-Demand: Click here to listen to this program anytime through February 13, 2022.
Sign up for our emails on music, travel, friends & fun. Click here to like us on Facebook.
Daily Listening Schedule | Time Zone Converter | Connect Brazil This Week
Make A Request | Send a message to Scott
MY PRODUCER'S NOTES
It's true.
Talented and temperamental, dedicated and demanding, Stan Getz was once described as "a great bunch of guys" due to his many moods and personalities.Turns out one of them loved Bossa Nova. Getz recorded five Bossa albums in two years, including the definitive version of Bossa Nova's most famous song:
Our playlist is filled with many of his Bossa best, along with three seldom told stories about those heady mid-60's years.
Happy Listening,
Scott Adams
Connect Brazil This Week is your music and entertainment digest to help you with all that we have to offer: Breaking music news, radio and streaming schedules, dining tips and more. Look for it every Sunday on the Connect Brazil Facebook page, or click here.
~ ~ ~
The cold weather in the days ahead begs for a seasonal Brazilian treat so try an easy recipe for Warmed Brazilian Spiced Cider, my original take on Brazil's traditional Quintao, click the image below for how to do it, along with the story behind this one-of-a-kind sipper, plus a perfectly-paired song, too! Of course.
R-E-L-A-X with The Sunday Brazilian Brunch. It's perfect for smoothing out the bumps of a busy week. Three full hours every Sunday beginning at 5 am Central, and then again at 9 am, 2 pm, and 8 pm. No app is needed when you click the 'Listening Lounge' button on our homepage at Connectbrazil.com.
This Sunday marks the anniversary of the recording of 'Francis Albert Sinatra meets Antonio Carlos Jobim', so I'll bring a half dozen of their best songs to the playlist. You are invited to listen live!
~ ~ ~
The Sounds of Brazil is always 'Live!'! We broadcast in CD quality every hour of every day, including The Midday Show with Scott Adams (9 am – 3 pm CT, M-F) and our jazzy 'Quiet Nights' show every weeknight starting at 8 pm CT. Click here to Listen Live and for the complete schedule.
~ ~ ~
Our Streaming Station's popular Brazil Back2Back segment has growen to a third play every Monday, Wednesday and Friday. Listen at 11 am, 2 pm and 5 pm Central.
Always two of a kind, and always two in a row! Have an idea for an upcoming Brazil Back2Back? Click here to make a request.
~ ~ ~
Have a song you'd like to hear?  Request a song, style, or musician on the Listening Lounge page anytime! If I select yours, you'll hear me play it and announce your name on the radio too. Go ahead, it's fun! Check out our real-time playlist, too.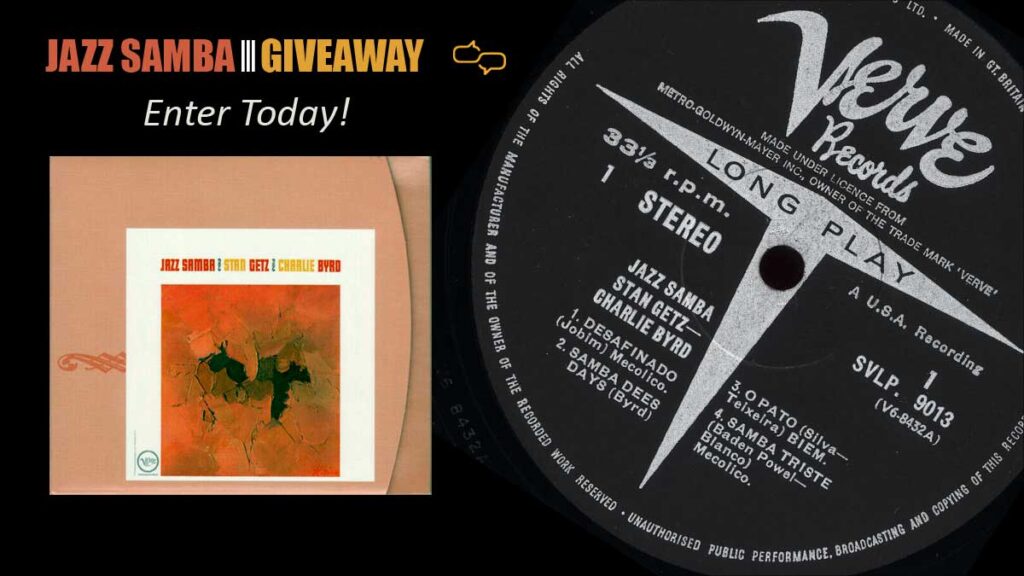 Stan Getz Bossa Nova
Hour 1:
Set 1: The Sounds of Brazil Opening Theme
Coiza Boa<>Quetzal Guerrero/Coiza Boa
A Sua Volta<>Roberta Campos/Diário de Um Dia
Desafinado<>Stan Getz/Jazz Samba
Welcome to The Listening Lounge
Let Your Love Rise<>Fabiana Passoni/Let Your Love Rise
Set 2:
Vontade de Viver<>S-Tone w/Toco/Onda
Belem, Minha Cidade<>Bobby Brazil/Amazonica
Introduce Next Set
It Might As Well (Be Spring)<>Astrud Gilberto/Getz Au Go-Go
Quando Voce Voltar<>J. Marino & Friends/My Little Town
Menina Moca<>Kenny G/Brazilian Nights
Set 3: This Week's Spotlight Song
Capim<>Manhattan Transfer & Djavan/Brasil
Border Line<>Deodato/The Crossing
I Am Singing<>Roberto Perera/Seduction
Stan Getz Bossa Nova
Hour 2:
Set 1:
One Note Samba<>Stan Getz & Charlie Byrd/Jazz Samba
Welcome To Our Second Hour
Roda<>Sergio Mendes & Brasil 66/Look Around
Baixo O Sol<>Brazil XXI feat. Helida/Café Ipanema
Guaratiba<>Azymuth/Carioca
Set 2:
The Girl From Ipanema<>Stan Getz/Getz-Gilberto
Planador<>Gabriel Martins/Mergulho
Introduce Next Set
Saudade Vem Correndo<>Bebel Gilberto/Tudo
Don't Wait For Love<>Will Downing/Moods
Lancamento<>Leo Gandelman/Vip Vop
Set 3:
Double Rainbow<>Stan Getz/Best of Both Worlds
Calma<>Emilio Santiago/De Um Jeito Diferente
Café Caldo<>Mazachigno/Cafe Roma 2
~ ~ ~
February brings a new theme to The Sounds of Brazil when we dive 'ears first' into a month of 'Rhythm & Romance'! I hope you'll enjoy the shows this month (including our very special tribute to Jazz Samba and its 60th anniversary on February 13th) and please – tell a few friends about us!
Whether it's your radio, your computer at work, or your tablet or smartphone, thanks for tuning in! I really appreciate it, and please tell a friend or two about us.
And don't forget about our weekly broadcast in Chicago: Sundays at 2:00 pm Central on 90.9 FM WDCB.
Stan Getz Bossa Nova