Check here often for virtual concerts, club dates and VIP streaming sessions from the popular Brazilian jazz pianist.
Upcoming events for Ricardo Bacelar are updated as new events are added.
Highlight include featured appearances of music from all four of Bacelar's albums, 2001's In Natura, 2005's Concert For Moviola, 2018's Sebastiana and Ricardo Bacelar's 2020 album, Live In Rio (Ao Vivo No Rio), recorded at the impressive Blue Note jazz club in Rio de Janeiro.
JAZZIZ magazine wrote about Brazilian pianist Ricardo Bacelar's 'Live In Rio' (Ao Vivo No Rio) album. Read their story here.
Streaming Radio
Upcoming events for Ricardo Bacelar include several 'featured' programs on Connect Brazil's streaming station.
These include Brazil Back2Back (12/09) The Sunday Brazilian Brunch (11/15) and an encore broadcast of 'The Musical World of Ricardo Bacelar' on The Sounds of Brazil's weekly syndicated program (12/13).
On Demand Virtual Concerts
Upcoming events for Ricardo Bacelar include two full-length, free and on demand virtual concerts.
Live In Rio (Ao Vivo No Rio)
Brazilian jazz pianist Ricardo Bacelar's new album, Ao Vivo No Rio (Live In Rio) was recorded live and captured in beautiful HD at the legendary, intimate Blue Note Rio. Go 'front row center' for the entire concert experience including Milton Nascimento's 'Nada Será Como Antes', 'Killer Joe' by Benny Golson, Gilberto Gil's 'Toda Menina Baiana', Jobim's 'Água de Beber' and Chick Corea's 'Blue Miles'.
Concert For Moviola (Concerto Para Moviola):
At 72 minutes, Concerto para Moviola was filmed in beautiful HD in Ricardo Bacelar's hometown of Fortaleza, Brazil. Its 17 songs include Jobim's 'Agua de Beber', Ivan Lins 'Setembro', Weather Report's 'Birdland' and Pat Metheny's 'So It May Secretly Begin'.
Official List: Upcoming events for Ricardo Bacelar
Click on any event for the entire list.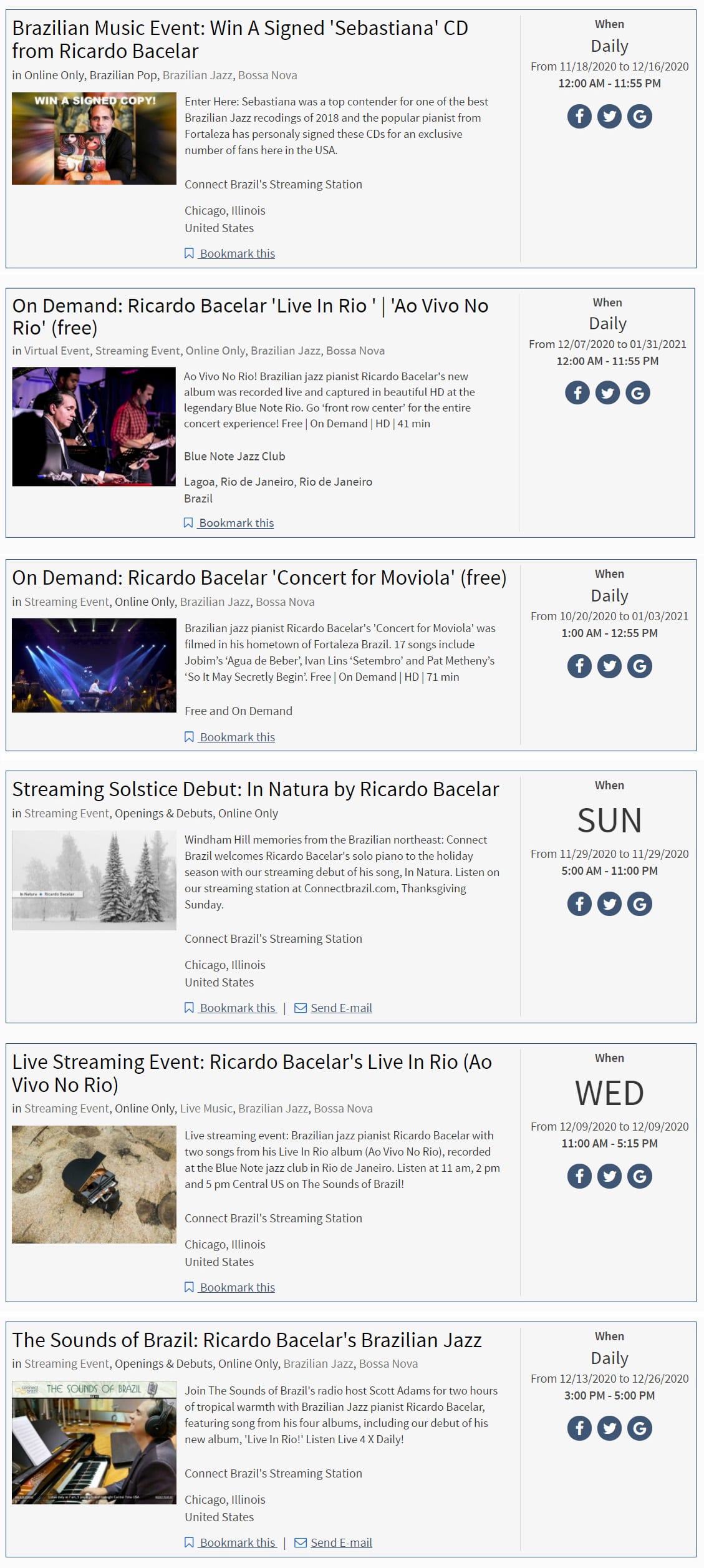 Bio
Growing up on the Brazilian northeast, Ricardo Bacelar experienced a wide range of musical influence: from the cultural traditions of the region and Brazil's seemingly endless wealth of musical creatives. Everyone from Jobim to Luis Gonzaga and Gilberto Gil.
The Atlantic trade winds blew south, bringing with them a brace of international styles: the Blues, Traditional jazz, American pop and Folk. As a pianist and keyboardist, his early American influencers included jazz greats like Chick Corea and Keith Jarrett.
Ricardo represents the 'next generation' of talented music makers on the family tree, including his father who was an amateur jazz piano player, his mother who played the guitar and grandparents who owned not one, but two beautiful pianos.
"Lots of members of the family were musicians," Bacelar recalls. "I grew up with these jam sessions in the living room."
You can get to know this talented jazz musician from the Brazilian Northeast:
Sign up for our emails on music, travel, friends and fun. Listen to our 'always live' streaming station and our 12 streaming music channels, always free. Browse our Lifestyle Directory. Click here to like our Facebook page and here for Brazilian events coast to coast.