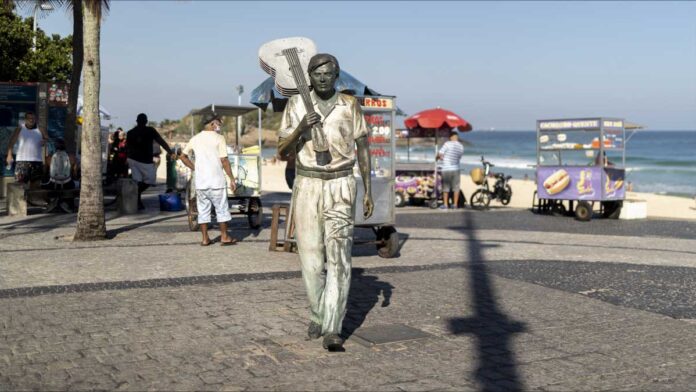 A late-afternoon walk along Ipanema beach is all it takes to find the statue honoring Brazilian singer-composer Antonio Carlos 'Tom' Jobim.
You can do this: Find Jobim's place on the beach and you've arrived at the Zona Sul spot where it all began for the Bossa Nova beat back in 1958.
---
by Scott Adams
But that's only half of the story.
Take the time to read what I've written here. You'll appreciate the moment even more once you're actually standing next to Jobim's statue.
Because I'm going to tell you what the guide books and blogs won't. I'm going to reveal the inspiration behind Antonio Carlos Jobim's world-famous statue on Ipanema beach.
Actually, Jobim's place on the beach is easy to find. You'll see it where Arpoador ends and where Ipanema's stretch of sun-soaked sand begins.
And there it is, situated casually upon Ipanema's unique black and white tiled mosaic sidewalk. The 200-kilo bronze statue depicts a young Antonio Carlos Jobim with a guitar slung over his shoulder.
It was dedicated on Monday, December 8, 2014, to mark the 20th anniversary of Jobim's passing at 67 years of age.
The moment of revelation for Jobim's place on the beach
His widow, Ana Jobim attended the unveiling ceremony. "A tribute is always welcome. This one, in particular, is very kind. Tom was an Ipanema boy and used to go fishing here. It turned out beautiful," she said.
Also on hand was the monument's sculptor, Cristina Motta. She crafted the statue, from concept to creation. When asked, she said that she was given complete freedom to choose the shape and design.
"I chose to represent a young and handsome Tom Jobim showing him at the peak of his success in the 1960s," she explained.
Listen to Connect Brazil's 'All-Jobim' streaming channel here. Always free.
Inspired by the birth of Brazil's artistic future
The year was exactly 1960. Jobim and his songwriting partner Vinicius de Moraes were commissioned to perform with a symphony orchestra in the nation's new capital, Brasilia.
The event was part of Brasilia's inauguration ceremony. It occurred on Brazil's 'Day of Discovery', April 21st of that year.
Carved out of the rugged interior of the Brazilain highlands, Brasilia was unlike any other city in the world. Its designers gave it a futuristic look. From above, Brasilia takes on the unmistakable shape of a jet airliner, flying across the Brazilian landscape.
The photo below is an exact copy of the one that Motta used as inspiration for her musical work of public art.
The black and white image captures the two friends and collaborators walking along an unfinished pathway after the performance. Clearly, Antonio Carlos Jobim at age 33, exhibits the confidence and determination of the occasion.
But there's one thing missing from Jobim's statue on the Ipanema sidewalk. Can you spot it? If so, send me a note!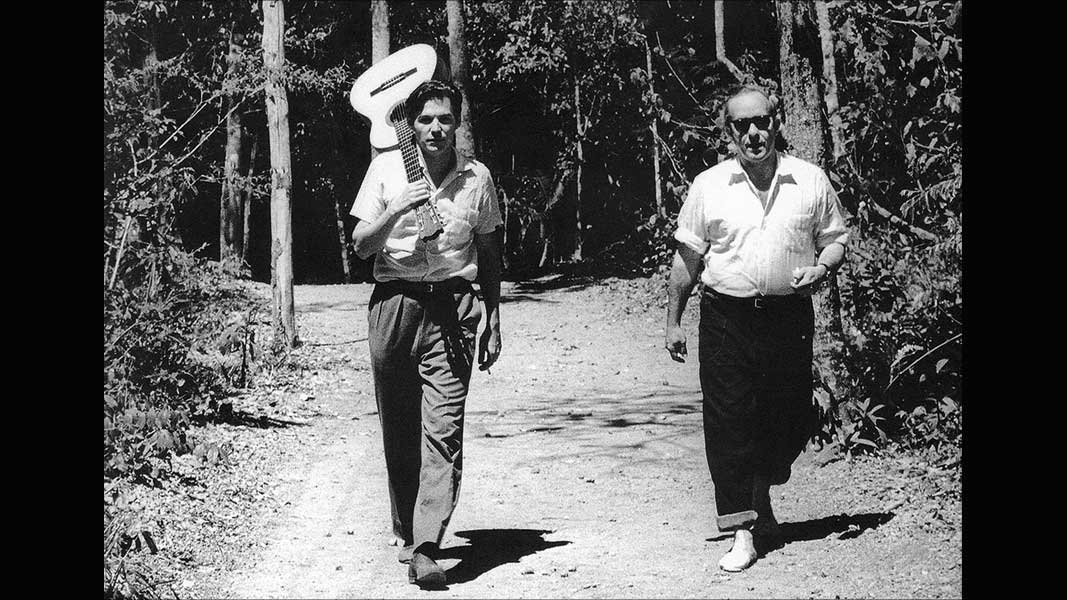 A memorial earned too quickly
Fans still agree that Jobim's place on the beach was earned too quickly.
Antonio Carlos Jobim died young in 1994, three decades after his 1962 collaboration with Vinicius de Moraes. Their song 'The Girl from Ipanema' took the world of popular music by storm. It remains one of the most recorded songs of all time.
The song paid tribute to the bronzed beauties who strutted along the beach in Rio's well-heeled Ipanema district just around the corner from Copacabana beach.
Jobim's place on the beach is not the only honor for the songwriter in the city of his birth. Rio de Janeiro's international airport is named after him in 1999.
Antonio Carlos Jobim's secret album came on his 60th birthday. Today, it is a gift to us all.
Get Connectbrazil's E-letter! Read a current issue here.
Follow the footsteps from Jobim's place on the beach
An easy walk – not far from his statue on Ipanema beach – will bring you to Garota de Ipanema Bar.
Here you can sit in the same place, at the same table where Jobim would while away the afternoon hours. Antonio Carlos Jobim wrote 'The Girl From Ipanema' right there.
Have a cold one in his honor.
Antônio Carlos Brasileiro de Almeida Jobim, also known as Tom Jobim, is one of Brazil's greatest musicians. He has composed hundreds of songs and released more than 50 albums. Remarkably, Jobim is Brazil's only songwriter to be included in the Songwriter's Hall of Fame.
What do you think? Will you be making plans to find Jobim's place on the beach and have your picture taken with the Man from Ipanema?
Music, Travel, Friends and Fun! 2022 marks Connect Brazil's 25th year.
Did you enjoy ' You Can Do This: Find Jobim's Place On The Beach'? If you did, why not join us at Connect Brazil?