It Begins With That First Sip Of Coffee
Brazil and your breakfast? It's the perfect way to introduce you to Brazil's amazing growth as one of the world's top-four food-producing nations.
This series was presented by the Consulate-General of Brazil in Chicago and the Brazilian Foreign Ministry's Cultural Department.
In celebration of Brazil's Bicentennial year, 1822 – 2022
This week's Brazilian Minute: Brazil And Your Breakfast
(Audio not available)


Script from Audio:
Brazil and … breakfast! You're adding a little 'Brazil' to your life every morning. It begins with that first sip of coffee.
About 40% of every cup comes from Brazil, the world's leader in coffee, exporting about 43 million bags of coffee each year. About three times more than second place.
Brazil is growing an 'agriculture revolution' as the world's leader for orange juice, sugar, and whole grains for your cereal. Pork, beef, poultry, fruit, and eggs make Brazil the fourth largest food producer in the world. Brazil ranks as the world's number one crop producer.
So, the next time you reach for your latte, espresso, or cuppa joe, just remember how far those beans have traveled to help get your day started.
Read and listen to new weekly episodes of The Brazilian Minute.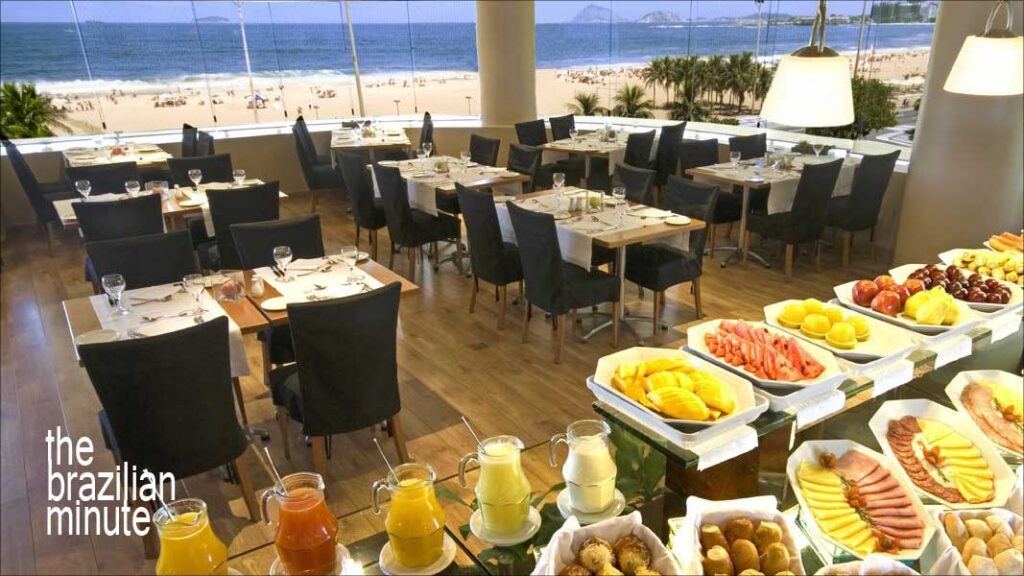 Brazil And Your Breakfast
Overview:
Brazil and your breakfast. As we explained in this week's Brazilian Minute, that's the easiest way to experience Brazil's agribusiness in real life. But the best way is pretty simple and the most fun.
First, pick up a round-trip ticket for a night flight to Brazil. Secondly, reserve the hotel of your choice.
Then, pay a visit to the hotel's breakfast buffet, where just about everything on the menu is Made In Brazil. From your coffee and orange juice to fruits, cheeses, cold cuts, pastries, and the eggs in your omelet.
And while you're enjoying your first café de manha, why not catch up with the business behind Brazil and your breakfast?
Brazil And Your Breakfast: Impressive Facts About Brazil's Agribusiness
1. Resource Responsibility
Brazil is not only a world leader in arable land, but it also makes better use of the land it cultivates. Responsible environmental management is an important aspect of the country's agribusiness.
2. The Forest Code
Brazil's 'Forest Code' was established in 1965 as the government's guideline for responsible land use. Today, about 60% of the country's total land is preserved under this policy. Brazil has carried this inclusive program forward for forestry, livestock, and crops.
3. An Ideal Location
Brazil's place in the world of Agribusiness is due in part to, well, its place in the world. Geographically, Brazil is perfectly positioned. Brazil has an abundance of natural resources. These include sunlight, rain, wind, rich-soiled regions, and varied climate zones.
4. Remarkable Achievements
Brazil's dynamic rise in Agribusiness is the result of more than four decades of careful planning and commitment. This growth has benefited the lives of Brazilians and is one of the most remarkable advancements in Brazil's economic history.
5. An Explosion of Growth Worldwide
Recent years have seen an explosion of export growth for Brazilian Agribusiness. More than 200 markets have been reached. Fully 9% of Brazil's workforce is involved with Agribusiness.
6. Brazil leads the World in Coffee…
There's an awful lot of coffee in Brazil. Brazil is ranked #1 in the world. And it has been that way for more than a century. About 40% of every cup comes from Brazil which exports about 43 million bags of coffee annually. Impressively, that's about three times more than second place.
7. … and Is A World Leader In other Breakfast staples, too.
When it comes to Brazil and your breakfast, it gets even better. One out of every three oranges is Brazilian. The world's second-ranked orange supplier – the USA – grows one out of every six. Brazil is also a top international producer of bananas, cacao, rice, corn, and beans. Brazil is also the worldwide leader in sugar and cassava.
8. What's for dinner?
Brazil has one of the largest poultry and beef livestock populations anywhere in the world. Both are major exports. In fact, it is easier than ever before to buy Brazil's prime grilling roast picanha in a local supermarket or have it delivered, fresh and vacuum sealed, to your door.
9. Brazil, Food, and Technology
Brazil's agribusiness is not just about your pantry, grill, or refrigerator. Agribusiness has elevated Brazil to the world's second-largest supplier of ethanol (from sugarcane) for export worldwide. It's also about science and technology. This partnership led to the discovery of an important genetic sequence in the fight against orange tree infection.
Music, Travel, Friends, and Fun! 2022 marks Connect Brazil's 25th year.
Brazil And Your Breakfast
Did you enjoy 'Brazil And Your Breakfast'? If you did, why not join us at Connect Brazil?
Sign up for our emails on Brazilian music, travel, friends, and fun. Listen to our 'always live' streaming station and streaming music channels, always free. Visit us on Facebook, and Twitter, and browse our Lifestyle Directory for Brazilian events coast to coast.