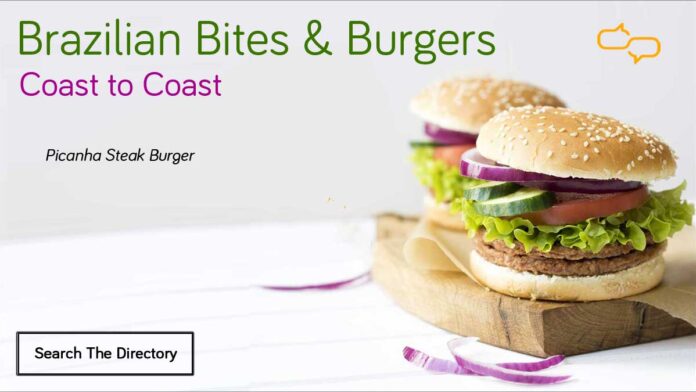 Get connected with the best Brazilian food coast-to-coast
Brazilian Bites and Burgers! From cafes, bakeries, and fresh markets to sandwiches, Brazilian BBQ, and caipirinha sippers.
---
Authentic Brazilain Food Is a Tap or Click Away
Right now, Brazilian food kiosks from Copacabana to Salvador, Bahia are serving up some of the world's tastiest treats.
Maybe you're thinking "Where's the closest Brazilian restaurant near me? If so, you're in luck. Because, even if you're a few thousand miles and a couple of time zones away from the land of Samba and sun, satisfying your Brazilian crave is closer than you think.
Get ready to explore delicious and authentic food from Brazil with Connect Brazil's coast-to-coast guide!
From sweet Brigaderious to tasty Pao de Queijo, there are plenty of choices nearby and online.
The Welcoming Spirit of Brazilian Hospitality
Wondering what Brazilian food is like? Connect Brazil is here to introduce you to family-owned Brazilian restaurants, coffee houses and cafes, bakeries, Brazilian BBQ, and grocery markets coast-to-coast.
Admittedly, we're 'Brazilian food and drinks' nuts and we're always up for a new Brazilian bite experience.
We hope that you will do the same. Your support makes everything taste better.
Use the handy links below to add food from Brazil to your Spring and Summertime adventures!
Connect Brazil Lifestyle Directory services for Brazilian American family-owned businesses are provided at no cost.
Brazilian Bites! Carry Home
Brazilian Food! Dine-in
The History of The Brazilian Burger
The hamburger is one of the most popular sandwiches worldwide. Connect Brazil's summertime guide is ready to help you find the best Brazilian Bites and Burgers.
The ubiquitous burger is an all-American staple, and despite its hamburger moniker (perhaps in tribute to the city of Hamburg, Germany), burgers are about as American as it gets.
And guess where America took its burger?
Brazilian Bites and Burgers: The Story of Bob's Burgers
The hamburger arrived in Brazil when America's Wimbledon-winning tennis player Robert Falkeburg moved to Copacabana to open the first Bob's hamburger store in 1952.
That early menu also included sundaes and milkshakes and Bob's Burgers instantly became a favorite Brazilian food hotspot for Cariocas and tourists. McDonald's soon followed to mark the official arrival of 'fast food' in Brazil.
And that's pretty much where things stood with burgers in Brazil for decades (and if you're wondering, late-night, room service burgers from a five-star in Sao Paulo definitely do not count!).
On the heels of a Brazilian Food trend
Things slowly began to change with the American arrival of Brazilian Steakhouses (Churrascarias) like Plataforma in New York and early Brazilian BBQ chains including Porcão.
The Brazilian idea of endless skewered grilled meats cut and served right at your table caught on and today most cities can lay claim to at least one or more Brazilian Steakhouses nearby.
So many in fact, that competition forced the less popular Churrascarias to close. Then, Brazilian Food entrepreneurs began to rethink their approach to Brazilian eateries in the USA.
A wave of new, more casual Brazilian restaurants is beginning to make its presence felt, and Brazilian burgers are a natural fit.
We have your next burger right here:
Click Here For Connect Brazil's Guide To The Best Brazilian Bites and Burgers
Today's Brazilian burgers run the gamut, from deliciously simple to multi-level burgers so elaborate that they are not for the faint of heart. Many are Brazilian food trendsetters: did you know that serving a burger with a fried egg on top is a decades-old Brazilian tradition?
Meats and grinds come into play, too.
From pure Angus coarse-ground beef to a blend of beef chuck, brisket, and short rib, pork or salmon, or veggie or vegan to the ultimate Brazilian burger, grilled from freshly ground prime picanha.
No burger you've ever eaten comes close.
Back home again in… Brazil, Indiana?
Connect Brazil's Lifestyle Directory is ready to introduce you to the best Brazilian Bites and burgers to be found coast-to-coast.
And if you just can't wait, head over to your nearest Burger King drive-through. Yep, Burger King is now owned by Brazilian billionaire Jorge Paulo Lemann.
You'll find them in Brazil, and in Indiana, too.
Brazilian Bites and Burgers: The Connect Brazil Guide
Stories like 'Brazilian Bites and Burgers: The Connect Brazil Guide' are what we do. Why don't you join us?