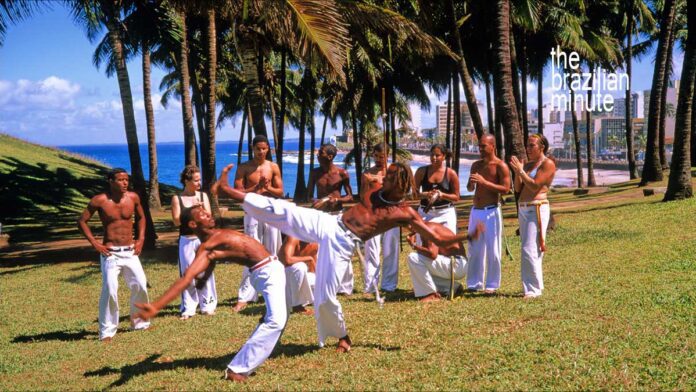 one of Brazil's oldest and most important cultural traditions
Capoeira's art is a Brazilian ballet, with roots that forever keep it connected to Mother Africa.
This series was presented by the Consulate-General of Brazil in Chicago and the Brazilian Foreign Ministry's Cultural Department.
In celebration of Brazil's Bicentennial year, 1822 – 2022
This week's Brazilian Minute: Capoeira's Art Is A Brazilian Ballet


Script from Audio:
Whenever you hear the twanging sound of the Berimbau and the percussive rap of the Pandeiro, you've found one of Brazil's oldest and most important cultural traditions: Capoeira!
Capoeira grew from the African Diaspora. Part martial art and part art form, participants face off as the Berimbau and Pandeiro set a slow rhythmic pulse for their movements. The level of skill to master Capoeira is tremendous.
Balance and quick reflexes are essential. As the pace quickens, so do the Capoeiristas, executing acrobatic handstands, body rolls, and leg whips within inches of their partner. Gradually, others may join in, as many as five or six at a time.
Capoeira must be seen to be truly appreciated. Look for a Brazilian capoeira club near you.
Read and listen to new weekly episodes of The Brazilian Minute.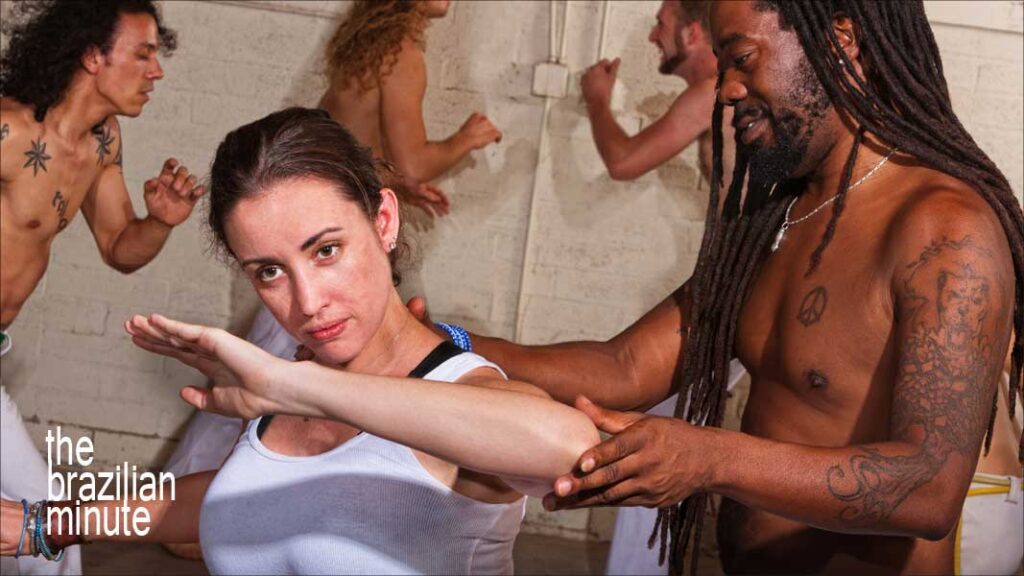 More on: Capoeira's Art Is A Brazilian Ballet
Overview:
Perhaps you've heard of Capoeira. It could be that you've seen it performed. Maybe you've even dipped your toe in the water for an introductory class or two. Or perhaps this edition of The Brazilian Minute caught your eye and now you're curious.
In Chicago? Catch Gingarte Capoeira during 'Festival Brazil 200', at Chicago's Navy Pier Beer Garden. Enjoy a live presentation and participate in a capoeira workshop. Sunday, July 10, 2:50 pm. Free. There's also a Kid's Capoeira class with Priscila Carvalho, too. Details, plus a complete 'daylong' schedule of events, are here.
What is capoeira?
Simply, it's a non-contact, sparring form of martial art that's unique to Brazil. As a performance ritual, capoeira has no equal. It is conducted in pairs or with a group of several participants.
Like all martial arts, capoeira has a learned series of moves, counter-moves, and sequences. Some are for attacking the opponent. Others are for defense. Still, others are decoy moves to trick or confuse. Capoeira's art is a Brazilian ballet.
These Masters execute leg sweeps, pirouettes, kicks, body rolls, and acrobatic handstands with force and precision, often mere inches away from contact. The skill required for capoeira is tremendous, and its mastery can take many years.
Capoeira begins with the twanging sound of the single-string berimbau, and the sharp rap of an oversized tambourine, the pandeiro.
The rhythm and tempo set the scene as spectators and participants form a circle called a roda. Initially, a pair of Capoeiristas step into the center, and the match begins.
The goal is mostly personal for each participant. Remember that today's capoeira is completely non-contact. Strength, dexterity, and balance combine with strategy and improvisation to define an individual performance.
The ABC's of Capoeira
What is the history of capoeira? It's as simple as ABC. Angola, Brazil, capoeira.
The story began near Benguela in southern Angola, many years before capoeira's evolution into the New World. The ancient kingdom of Ndongo originated the ritual, and it became known as the n'golo dance throughout the region.
Many of the moves mimicked those of animals, they were meant to display power and leadership for warriors.
The African Diaspora brought the n'golo dance to the Brazilian Northeast. Capoeira found its name in the late 1600s and a new tradition emerged. Capoeira taught survival tactics and defensive skills to liberated slaves. They gathered in quilombos (settlements) and they learned capoeira.
Emancipation came in 1888. Freed slaves began the difficult process of integration. For some, capoeira became a hands-on martial art. History says that gangs used capoeira masters as bodyguards and assassins. Groups raided cities and neighborhoods. The result was a country-wide ban on capoeira.
The young country evolved too, and 40 years later, capoeira began to mainstream itself into Brazilian life. Brazilians learned capoeira for self-defense. They practiced capoeira as a dance form.
Decades of acceptance have helped to shape capoeira's art into a Brazilian ballet.
Connect Brazil's Lifestyle Directory for Capoeira
You'll want to experience Capoeira to truly appreciate it. We invite you to look for a Brazilian capoeira club near you.
You're sure to find one, or several.
Connect Brazil's Lifestyle Directory showcases nearly 200 capoeira organizations in the United States. You can search by name or location
Your timing couldn't be better. Get ready to celebrate Dia de Capoeira (Capoeira Day). It happens annually every August 13th.
Music, Travel, Friends and Fun! 2022 marks Connect Brazil's 25th year.
Capoeira's Art Is A Brazilian Ballet
Did you enjoy 'Capoeira's Art Is A Brazilian Ballet'? If you did, why not join us at Connect Brazil?
Sign up for our emails on Brazilian music, travel, friends, and fun. Listen to our 'always live' streaming station and streaming music channels, always free. Visit us on Facebook, and Twitter, and browse our Lifestyle Directory for Brazilian events coast to coast.