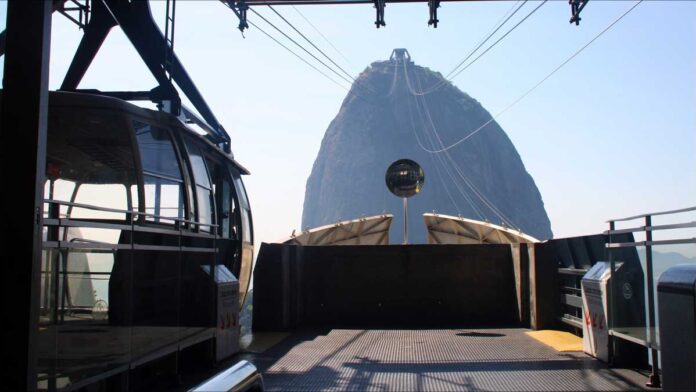 Rio's world-famous mountain ride elevates your senses to overflowing.
Rio's Sugarloaf cable cars are a top tourist attraction. But the closest most of us will get today will probably be an escalator ride to the lobby after a busy workday.
---
by Scott Adams
One of Rio de Janeiro's iconic landmarks hit the century mark not long ago: Yep, it's 100 years and counting for Rio's Sugarloaf cable cars in Zona Sul.
Did you know that each glass-walled cable car (called a bondinho) is capable of holding 65 people? Each bondinho takes a 4,600-foot route between the peaks of Morro da Urca and Sugarloaf (Pão de Açúcar).
Rio's cable car history
Should you be worried about taking this picturesque ascent in a rickety 100-year-old sky car? Well, you can set those concerns aside with a little bit of history.
The idea was originally conceived in 1908 by Augusto Ramos. He was a civil engineer who envisioned a city-wide network of cable cars for Rio de Janeiro.
The first wood-covered cable cars were built in Brazil soon after. Amazingly, there were only two other cable car systems operating worldwide when the inaugural ride to the top of Pão de Açúcar took place on October 27, 1912.
Ramos's original design was well-planned. This original system remained in service for six decades, then was completely renovated in 1972. The system was fully replaced for a second time in 2002, adding new cars.
Six years later, the cars were upgraded again, ahead of the 100th anniversary of Rio de Janeiro's top tourist attraction in 2012.
Rio's cable cars are ranked among the safest in the world.
Ready to go? Use Connect Brazil's step-by-step guide to Rio's Sugarloaf cable cars to make the most of your visit to Pão de Açúcar. Pronto ja!
Do this: Experience original examples of all three cable cars before you begin your ascent. You'll find them on display in the Cable Car Plaza at Morro Da Urca. You can even take a photo with a statue of Augusto Ramos, next to his cable car creation.
Elevate your Sugarloaf cable car experience
When to go and how to get there
Hands down, the best time of day to visit Sugarloaf is at sunset. Why? Watching the city lights come alive at twilight is simply an unmatched experience. And it's okay to get a little choked up when your eyes capture the bright glow of Cristo Redentor in the distance.
Plan to arrive at least 90 minutes before sunset on a clear day. No need to hurry, you can stay until closing.
If you are visiting Rio de Janeiro, your concierge can suggest a variety of full- and half-day tours. But if you want to be less touristy, it's easy to plan your Sugarloaf adventure on your own.
Getting to the Sugarloaf Terminal is easy by car, by bus, or on foot. Want the most economical? Take the bus. Be sure to pay with exact change as you enter.
We recommend a private car or 'Limo' from your hotel. Tell your cab driver to take you to Bondinho Pão de Açúcar in Urca.
Know before you go
Wondering if you'll need a vaccination card? Yes. You'll need it to purchase your tickets.
Sugarloaf's iconic cable cars run every 30 minutes, Monday through Thursday, from 10 am to 7 pm. Weekend hours, including Friday, are 9 am to 7 pm. Admission closes at 6 pm daily.
Plan to spend enough time at each stage. There's plenty to see and do. You'll find address, contact, and ticket information at the bottom of this page.
Note: Every part of your Sugarloaf visit (except for a few trails) is wheelchair and stroller friendly with convenient ramps and marked elevators. You'll find wheelchair-accessible restrooms on both the Morro and Sugarloaf levels.
Praia Vermelha
Your cab will drop you off at the Terminal entrance, but here's an idea. Before you enter, why not walk over to the sandy beach called Praia Vermelha?
It's one of our favorites and it's a hidden gem for a day of sun and fun. The 'Red Beach' gets its name from the brilliant wash of color that arrives with sundown on a cloudless day. Both the setting and the scenery are breathtaking.
Take a moment to look around. Notice trail markers on the far end of the beach? The paved, moderate 2-mile walkway along the base of Sugarloaf has amazing vistas. It can be taken all the way up to Morro Da Urca and back.
It's a fantastic way to appreciate the flora and fauna surrounding Rio. And if you so choose, can add another layer of adventure to your Sugarloaf experience.
But most likely, your eyes will be drawn upwards, to seek your destination. Pão de Açúcar's summit rises 1,300 feet above sea level.
When you are ready, return to the Terminal to purchase your tickets. You'll find shops and exhibits there, too.
Rio's Sugarloaf Cable Cars
The First Stage: Morro da Urca
Once onboard your Bondinho, the three-minute excursion brings you to the Morro Station. This stage raises you at a rate of 20 feet per second, to a height of 722 feet. Disembark to find plenty to capture your attention.
There's plenty to see with Botafogo and the Rio Yacht Club on the left. To the right, you'll the Duque de Caxias Fort perched high atop the Leme Rock.
Three areas provide noshing options including everything from a restaurant to a snack bar. There's a play area for the kids and Pão de Açúcar has souvenir shops at each stage of your journey. Take a leisurely stroll through the garden area. You'll find several trails to explore, leading to various vantage points, too.
But wait, there's more. The Morro da Urca Amphitheater regularly hosts concerts and cultural festivals. A weekend visit might even give you an opportunity to crash a wedding, Brazilian-style! The Morro da Urca station easily accommodates 2,500 guests.
Call ahead or check with your concierge for details on upcoming events. Ready for the climb to the summit?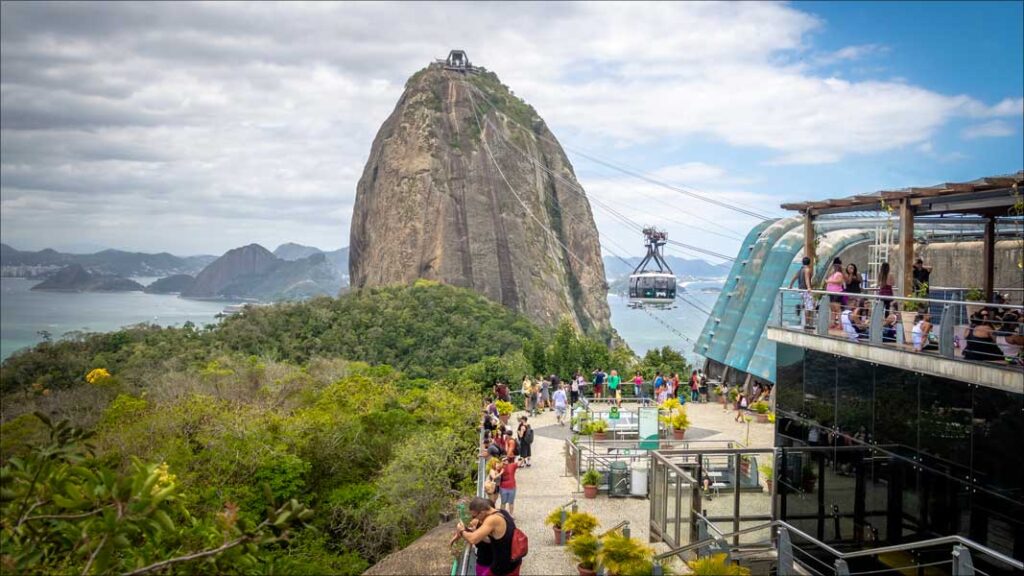 The Second Stage: The Sugarloaf Summit
Okay, we'll admit it. One look at the run from Morro Station to the Sugarloaf peak can be daunting. We'll travel more than half a mile to a height of 1,300 feet in about three minutes.
And it gets pretty darn steep as we approach the summit. But the payoff is unique.
Few spots on the globe can equal the views from atop Sugarloaf Mountain. But if you're looking for one, it's always nice to know that Rio has two of them. So, plan a visit to the top of Corcovado during your stay.
Stepping off the tram, your senses are heightened, too. Head straight to the observation deck to take in the 360-degree panorama that lies below. You can even opt for the shaded deck with a nice breeze.
Looking for the road less traveled? Take the trail around the top of the summit for the ultimate sensory overload.
A Panoramic Paradise
We suggest taking in the vistas from every side. Looking over Guanabara Bay, you'll understand how Rio de Janeiro earned its name. This body of water is so vast that Portuguese explorer Pedro Cabral believed he was charting a course through the mouth of a great river when he arrived on January 1, 1502.
You'll see the beaches of Flamengo and Botafogo. Further out, you'll spot the eight-mile-long Rio–Niterói Bridge while watching planes arrive and depart from Santos Dumont Airport. It was immortalized in song by Antonio Carlos Jobim's 'Samba do Avião' in 1962.
Trade sides to look west. Below, are the beaches of Vermelha, Leme, and Copacabana, which juts out towards the sea at Arpoador.
The hazy, afternoon views of Corcovado in the distance give way to illustrious illumination once the sunsets. Seeing the Christ statue at night is an experience you'll never forget.
Sugarloaf's terrace restaurant offers enticing tableside views along with a somewhat overpriced menu. Settle instead for a caipirinha or two.
Ready to call it a day? Don't forget to visit the Gear Room to grasp the century-old history of Augusto Ramos and his mechanical marvel.
Then await your turn for the cable car descent to the Terminal. One last chance to soak it all in.
Exploring the neighborhood
Perfect ending
Once you've returned to sea level, there are a few choices you can make. Continue with your previous plans or if time permits, why not explore the Urca neighborhood?
Urca is home to many of Rio's rich and famous, especially it's celebrities. That said, the area is remarkably low-key and decorated with winding cobblestone streets and comfy, Cheers-like bars and restaurants.
Urca also has more than its share of history as the location for Rio de Janeiro's legendary Casino.
This is where famed movie director Orson Welles spent many of his nights during his months-long stay in the 40s. It's rumored that he spent most of RKO's money there, too.
And just about everyone knows of Urca's most famous resident, Carmen Miranda.
Urca's hidden gem
To get there, head towards Guanabara Bay until you reach Avenida Portugal. Continue east along the waterfront until you pass the Praia da Urca beach. Then look across the street for Bar Garota da Urca. You'll have a lot of fun, and chances are pretty good that by the time you leave, everybody will know your name. You'll love the amazing nighttime view of Cristo Redentor, too.
A quieter (and romantic) option is the Brazilian steakhouse, Assador in Flamenco. A short cab ride away, this is the former home of Porcão Rio's, which closed in 2009.
Situated on the water overlooking the bay, Assador's upscale location is unmatched in Rio for its dramatic views, its atmosphere, and its five-star dining experience.
Details and Ticket Information
Bondinho Pão de Açúcar
Av. Pasteur, 520 – Urca, Rio de Janeiro – RJ, 22290-240, Brazil
Phone: +55 21 2546-8433
Subway
Botafogo Station + bus SP513 Urca
Buses
107 – Central x Urca (4 minute walk)
Ticket Information
Individual and group tickets may be reserved online to receive a 10 percent discount. Tickets are 'round-trip', non-refundable, and valid for seven days. Ticket office hours are 7:30 am to 7:50 pm daily.
Ticket prices vary according to the package you select. The standard 'Cable Car Ticket' is priced at R$ 120.00 (currently USD $21.67) per person. 'Fast Pass', 'Historic Tour', 'Backstage Tour', and 'Ecological Tour' packages are also available.
A 50% discount is available to students, people 60+, and people with disabilities. See the website for details.
Rio's Sugarloaf Cable Cars
Stories like 'Rio's Sugarloaf Cable Cars' are what we do. Why don't you join us?