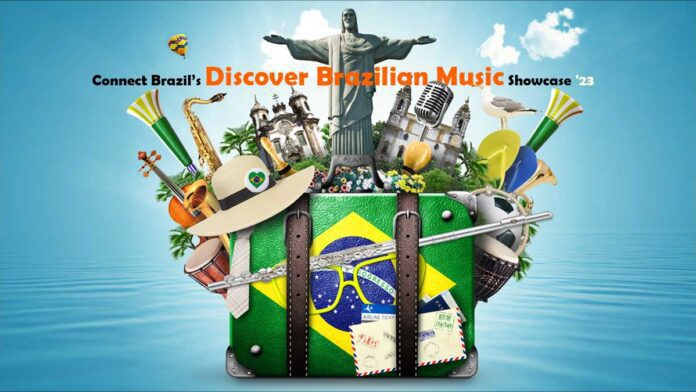 Top Hits, Breezy Bossas, and Brazilian Jazz.
Here's our Discover Brazilian Music Showcase with the best variety of songs to help you get the Sunshine Season off to a great start.
---
The joy of discovery! It goes hand in hand with our love of exciting new sounds from Brazil. That's why I'm pleased to present Connect Brazil's Discover Brazilian Music Showcase.
From a trio of Brazil's top pop stars and sun-kissed jazz sambas to a romantic Urban Bossa Nova from an R&B superstar. And I have breaking news from the most famous Brazilian American singer on the planet!
These songs (plus thousands more) are part of my playlists for The Sounds of Brazil's live streaming station at Connect Brazil, and 15 streaming channels, too.
You're invited to join our list for the Connect Brazil Weekender. It's America's most-read newsletter for Brazilian music and culture. Read a current issue!
I started Connect Brazil for fans like you and to support the musicians who create the music we love. If you are new to Connect Brazil, welcome!
The music's waiting, so let's go! What will you discover?
Happy listening,
Scott Adams, Midday Host, and program director
Watch for our Top Brazilian Summer Sambas Music Showcase in June!
Discover Brazilian Music Showcase
Vanessa da Mata | 'Vem Doce' from Vem Doce
Both Rio de Janeiro and São Paulo sit on the Tropic of Capricorn. This invisible line is literally what makes Brazil tropical.
So, when Vanessa da Mata recorded her bluesy, reggae-tinged hit 'Boa Sorte/Good Luck' with Ben Harper in 2007, it was like tropical lightning in a bottle. Her story of a love affair that's run its course resonated with newfound fans worldwide. And the album that it came from, Sim went on to win a Latin Grammy.
Newly released, Vem Doce marks da Mata's 10th album by returning the singer from Mato Grosso to her musical roots. This title track carries an R&B vibe filtered through that organic Brazilian sensibility of something that can't be seen but most certainly can be felt. A more authentic Brazilian style than say, Anitta songs.
Early on, da Mata penned tunes for Brazilian hitmakers like Daniela Mercury. 'Vem Doce' reconnects the songwriter with the comfort zone that skyrocketed her to worldwide acclaim.
Read our amazing backstory of Vanessa da Mata and Ben Harper's 'Boa Sorte/Good Luck'.
Buy it here: Amazon Music
Listen free: XODÓ | Women of Brazilian Song | Preciso Brazilian | Our Streaming Station
Gregory Abbott | 'Whisper The Words'
Gregory Abbott, whose love of words and music created pop success with 'Shake You Down' returns with a smooth, romantic Bossa Nova love song.
From its very first note, 'Whisper The Words' pulls you into his story as Chieli Minucci's guitar frames the lyrics. There you are for a stroll along Copacabana.
Magic lights surround us. A mist in the air, it swirls in from the sea. Looking through the eyes of love Cupid's finally found us. I can't turn away; love is calling me.
What inspires Abbott? "I love stories that unfold as I watch people interact. I take it all in, interpret it, then I create the song." As listeners, we're drawn to the experience.
One of Copacabana's most-romantic traditions reveals an interesting observation about young love, Brazilian style.
Its beachside benches are popular destinations for dating teens. Boys will sit with their backs to the ocean. Girls sit facing it. The intimacy of their moment is unmistakable. You'll see it time after time.
And you have to wonder. Was Gregory Abbott's 'Whisper The Words' playing through their earbuds? Maybe.
Buy it here: From the Artist | Amazon Music | Apple Music | Spotify
Listen free on: Bossa Nova Love Affair | Brazilian Jazz | New Music: Brazil | Our Streaming Station
Paprika Soul | 'Rio Sunset'' from Originals Collection
Whether it's Soul, EDM, or Brazilian influenced, London-based Paprika Soul stays at the forefront of the UK Jazz scene. It's the brainchild of producer and songwriter Andrew Spiller and Jazzdubossa's Alain Barnes, who began collaborating in 1992.
The group's style ranges from familiar to eclectic, but Spiller and Barnes have earned a loyal, global following with their music.
They've earned our ears too. 'Rio Sunset' is a smoothly sonic, soothingly immersive keyboard and wood flute anthem pulsed by insistent rhythms and wordless vocals.
Paprika Soul aims to create an aurally superior, live presence when in-studio and the listening experience is telling. Fans of Paul Hardcastle will no doubt be thrilled with Paprika Soul's 'Rio Sunset'.
Brazilian jazz fans will love the original covers of Tania Maria's 'Come With Me' and Kool & The Gang's 'Summer Madness'. And more Brazilian tunes are in the pipeline for our streaming station and channels, including 'Dindi', 'Samba Recifie', and 'Rio Sunrise', too.
Buy it here: Amazon
Listen free: Cafe Copacabana | New Music: Brazil | Sunday Brazilian Brunch | Our Streaming Station
Connect Brazil Recommends: Bossa Nova by Ruy Castro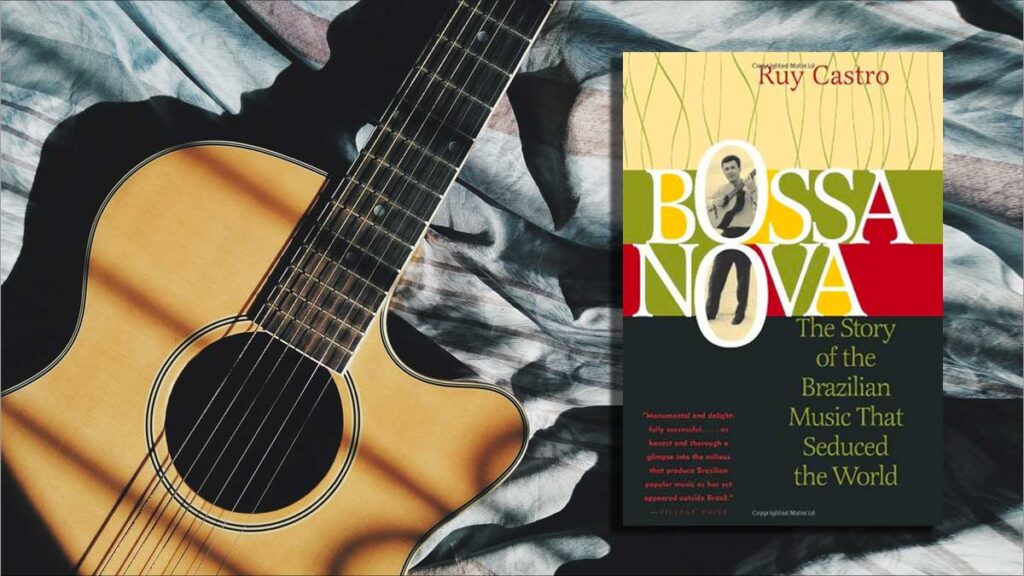 Discover Brazilian Music Showcase
Jorge Vercillo | 'Gota a Gota' from Raça Menina
Last month, one of Brazilian Pop's longest pandemic timeouts officially ended for Jorge Vercillo.
Yes, the singer/songwriter from Rio de Janeiro released several excellent remakes of his most beloved hits, including 'Final Feliz', and fans loved it. But his previous album Nas Minhas Mãos was released four years ago, as time passed by slowly for us all.
Released March 10th, Raça Menina was easily two years in the making. Buoyed by his partnership with new producers this album marks a distinct – but familiar – update to Vercillo's trademark sound.
It also celebrates an important milestone: Jorge Vercillo's 30th anniversary as a performer.
International influences abound – and define – Vercillo's Raça. The title track is produced by Miami's Lourival Rodriguez. Angolese composer Filipe Mukenga contributed his own 'Humbi Humbi' by assisting Jorge Vercillo with its translation into Portuguese.
As the title suggests, Raça Menina is a musical homecoming for Vercillo. With it comes an honest depth of spirit and purpose, lifting each of these songs to new heights.
Buy it here: Amazon
Listen free: Bossa Nova Love Affair | Preciso Brazilian | New Music: Brazil | Our Streaming Station
Azymuth | 'Bossa Nova U.S.A.' from Crazy Rhythm
Sometimes the most exciting way to discover Brazilian music is to explore what has come before. And for Brazilian jazz, no group better defines its contemporary style than Azymuth.
Consider José Roberto Bertrami, Alex Malheiros, and Ivan Conti. Three friends, growing up in the same neighborhood in Rio de Janeiro. Pianist Bertrami suggested a trio. Bassist Malheiros also played guitar. Drummer Conti was also a percussionist. They began playing together in 1968 as Projeto 3.
So how did the trio become Azymuth? They asked Marcos Valle for permission to name themselves after his song, 'Azimuth'. The group struck a deal with Milestone Records leading to 30 albums spanning five decades.
The pure-groove fusion of keyboards, guitars, and exotic rhythm defines the Azymuth sound. Light As A Feather, Brazilian Soul, Tightrope Walker, and Butterfly are all listening essentials. There's Telecommunication for the eternal 'Last Summer In Rio' and Crazy Rhythm for this song, 'Bossa Nova U.S.A.'
Why?
Last Tuesday, Ivan Conte passed away, at age 76. In his honor, we chose this song to showcase the acoustic spirit of these three amigos.
Buy it here: Amazon | Apple Music | Spotify
Listen free: Brazilian Jazz | Cafe Copacabana | Brazilian Jazz Instrumentals | Our Streaming Station
Luedji Luna | '3 Marias'
Our listeners were among the first to be introduced to Luedji Luna a few years ago. It came with 'Bom Mesmo É Estar Debaixo D'água' (It's Really Good To Be Underwater), the title track of her sophomore recording.
Born in Salvador, Luedji Luna is gifted with a beautiful voice and a talent to move mountains with her creativity.
Luna's latest offering is the single, '3 Marias', an outside-looking-in perspective of uncertainty. Her prose, even when translated, filters the emotion: I'm the edge of the abyss, I'm a speck in the eye. I'm a blanket in a motel room. One of the three Marias in heaven.
Luna's music is equally reflective. Often, the bluesy dissonance of '3 Marias' resolves merely to an uneasy steadiness. Finally, confidence rises to a single phrase, in English. Masterful.
It's a good bet that we'll never hear Luedji Luna sing a Jobim tune. But we'd love to hear what she would do with it. She's really that good.
Buy it here: Amazon Music | Spotify
Listen free: XODÓ! | Women of Brazilian Song | New Music: Brazil | Our Streaming Station
Connect Brazil recommends: Brazilian Flag Woven Bracelet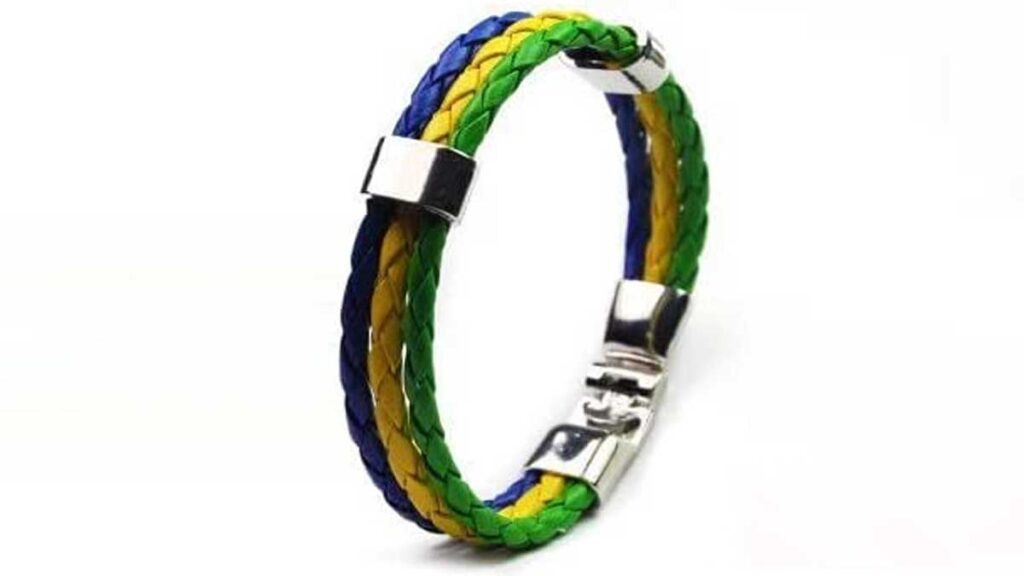 Discover Brazilian Music Showcase
Lee Ritenour | 'San Juan Sunset' from Rio
Here's a story about a Brazilian keyboardist, an American guitarist, and a shared song.
It's 1979. Lee Ritenour is planning his seventh album, Rio, ready to earn his first of 16 Grammy nominations. Pink Floyd taps him to energize their rock opera, The Wall.
Eumir Deodato is Brazil's most successful musician. His jazz-fusion hit 'Also Sprach Zarathustra (2001)' brings multi-platinum sales and a Grammy award. He's arranged for Frank Sinatra and his 17th album Love Island is chart bound. This song is track four.
It's also where the talents of these two world-class musicians meet. Just like Deodato's original, Ritenour's 'San Juan Sunset' is recorded in New York. Where Deodato serves up a relaxing, drift-away vibe with Larry Carlton's guitar, Ritenour brings jazzy swagger with Dave Grusin's keyboards.
Deodato goes on to produce 'Ladies Night', 'Too Hot', and 'Celebration' for Kool & The Gang. Ritenour gives USA recording debuts to Djavan, Ivan Lins, João Bosco, and Caetano Veloso.
You never know what to expect when you set off to discover Brazilian music.
Website | Facebook | Instagram | YouTube
Buy it here: Amazon Music
Listen on: Bossa Nova Love Affair | Brazilian Jazz Instrumentals | Sunday Brazilian Brunch | Our Streaming Station
Bebel Gilberto | 'Samba da Benção' from Bebel Gilberto In Rio (CD/DVD)
There's breaking news, read on.
Unsure of how it would turn out, 20-year-old Bebel stepped into the studio to record her self-titled debut EP. The fact that her father is João Gilberto, and her mother Miucha is sister to Chico Buarque didn't hurt her chances.
But anyone who's heard the five songs that she co-wrote and recorded in 1986 knows the truth. Bebel Gilberto was already her own calling card.
Amazingly, 14 years would pass before she would headline another album.
2000's Tanto Tempo (So Much Time) changed everything by reinventing Bossa Nova. Its downtempo style drew a generation of fans to discover Brazilian music and Bebel Gilberto was their muse.
Then, change visited again, calling her mom home in 2018 and then her dad the following year. Agora (Now) arrived in 2020 after COVID. It reflected a different Bebel.
Now there's word of a new Bebel Gilberto album this summer. João promises to be more than a tribute, but also a collection of her most cherished musical memories. Connect Brazil will have it first.
Meanwhile, let's enjoy Bebel Gilberto in Rio!
Buy it here: Amazon
Listen free: XODÓ | Bossa Nova Love Affair | Women of Brazilian Song | Our Streaming Station
Brian Bromberg | 'Little Tune' from In The Spirit of Jobim
For as long as we can remember, Brian Bromberg has had a thing for Brazilian music. Bass or guitar, you'll hear his passion for the music in songs like this one. He calls it 'Little Tune', but it's so much more.
Bromberg's melodic talent with a Bass guitar is impressive. He finds plenty to explore in its higher ranges, where frets are few and tones are tight.
However, for In The Spirit of Jobim Bromberg opts for his nylon string guitar. 'Little Tune' serves up a breezy riff from the start with its melody caressed by soaring strings.
Featured guests include guitarist Oscar Castro-Neves, drummer Mike Shapiro, and Brazil's best percussionist, Airto. Fully half of the album's 12 songs are Jobim originals, with one or two surprises to be heard.
Antonio Carlos Jobim once said, "Any song sounds better as a Bossa Nova." Even a little tune. See if you don't agree.
Buy it here: Amazon Music | From the Artist
Listen free on: Bossa Nova Love Affair | Brazilian Jazz Instrumentals | Our Streaming Station
Music, Travel, Friends, And Fun!
Discover Brazilian Music Showcase
Stories like 'Discover Brazilian Music Showcase' are what we do. Why don't you join us? Sign Up for our e-letter. Listen to our 'always live' streaming station and our 15 streaming music channels, always free. Browse our Lifestyle Directory. Click here to like our Facebook page and here for Brazilian events coast to coast.