Ready for a Brazilian Break? Listen for an Eliane Elias twofer this Friday.
Eliane Elias Back2Back! Connect Brazil's weekly digest keeps you informed and up to date with the best of Brazil. What will you discover?
---
Cover Story
Eliane Elias Back2Back! Why not? Those are welcome words to the ears of Brazilian jazz fans worldwide. Why? Because no other female Brazilian jazz musician so more popular and plays more date and venues than the talented pianist from Sao Paulo.
And we miss her shows. She does too.
Eliane Elias loves to perform: "My whole thing is the piano, the sound of the piano, the response of the instrument, the acoustics," she says. "When I put my hands on it, I don't have to think about this chord or that chord being right. I just go for what I feel."
Let's celebrate Eliane's return to our streaming station's Brazil Back2Back segment. Reacquaint yourself with our original review of her Three Americas album, then tune in online for a pair of fan-favorite songs on Friday's Brazil Back2Back.
Listen Live this Friday
Be sure to join me for Brazil Back2Back, when Eliane Elias comes to our streaming station this Friday, top of the hour, at 11 am, 2 pm, and 5 pm CT for two in a row.
Use the Connect Brazil Listening Lounge: Always free, always live.
Scott Adams, Midday Host
TOP STORIES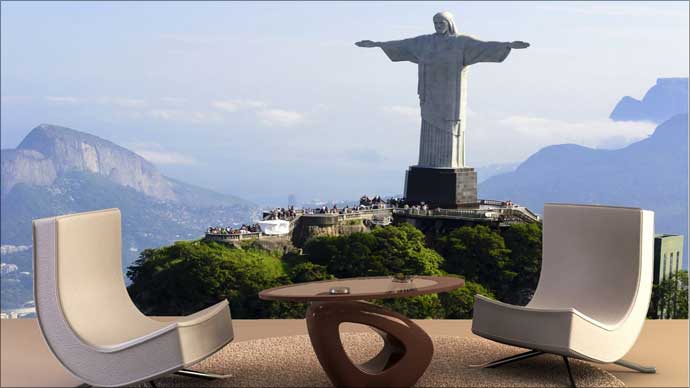 Connect Brazil's Weekender arrives in your inbox this Thursday! Read a current issue and sign up here.
New Music: Daniel Santiago with Eric Clapton 'Open World'
STREAMING MUSIC NEWS
Just in time for the long holiday weekend, Sergio Mendes is ready to usher in the unofficial arrival of… Summer! Settle in with two hours of favorite songs on The Sounds of Brazil. You are invited to listen 4 X daily and on-demand through June 6th. The playlist and Producer's Notes are here.
ON OUR STREAMING STATION
Taking you away from your part of the world, to ours! Our streaming station is a jazzy blend of breezy bossas and crossover hits from both sides of the equator. Always free and always live, this is music you can live with!
Treat your ears to our unique blend. Our streaming station is the perfect choice for the sunshine season. Listen for these songs this week during The Midday Show with Scott Adams (M-F, 9 am to 3 pm CT).
'Double Take' – Al Jarreau with Deodato
'So Nice' – David Benoit and Marc Antoine (Instrumental)
'A Primera Vista' – Daniela Mercury
Listen for these songs and thousands more on our always-live streaming station, and click here for all of our streaming music channels.
Best way to listen? Connect Brazil's Listening Lounge.
Brazil Back2Back
Always two-of-a-kind and always two in a row when you listen at the top of the hour, at 11 am, 2 pm, and 5 pm (US Central) Monday, Wednesday & Friday.
Here's this week's lineup:
Monday, May 24 – Brazilain Horns
Wednesday, May 26 – Sergio Mendes for Memorial Day Weekend
Friday, May 28 – Eliane Elias
Next week on Brazil Back2Back:
Monday, May 31 – Memorial Day observance: "Remember and Honor"
Wednesday, June 2 – New Music: Sarah Menescal, Rainforest Band
Friday, June 4 – Smooth Brazilian Jazz Favs
Visit the Listening Lounge to listen live, for real-time playlists or to request a song.
Spotlight Song: Bossacucanova 'Bom Dia Rio' Live!
Listen to this song on Connect Brazil's always-live streaming station, 24/7, worldwide.
EVENTS
Connect Brazil's Events section has the early line on entertainment recommendations for the Sunshine Season with more live venues, and club dates added regularly. And musicians can post their events for free, anytime.
Catch up with Eliane Elias on stage. Enjoy live club dates and livestream Brazilian jazz concerts with Philly's Minas, Chicago's Cecy Santana, and St. Pete's Nate Najar Trio with Daniela Soledade, You'll find virtual Brazilian cooking and Zumba classes, even the return of Brazilian Jazz to San Antonio's Riverwalk.
Plus your pick of full length, on-demand virtual Brazilian jazz concerts, too.
Click here to browse upcoming events.

THE BRAZILAIN COMFORT FOOD GUIDE
Browse Brazilian eateries, cafes and markets near you, coast to coast
Grillin' like a Brazilian? Whether it's sizzling Brazilian kabobs or a full-fledged churrasco, there's a steakhouse, butcher, or market nearby to help with your shopping list. Don't forget the wood charcoal!
Soon, your tastebud will be in overdrive, so plan ahead. Our Lifestyle Directory delivers Brazilian goodness to your table.
Connect Brazil is donating its services to spread the word about the tasty rewards of your patronage.
We hope that you will do the same by placing an order soon with an eatery near you. Your support makes everything taste better. Even Brazilian picanha steaks!
Eliane Elias On Stage: Connect Brazil This Week
Stories like 'Eliane Elias On Stage: Connect Brazil This Week' are what we do. Why don't you join us?
Sign up for our emails on music, travel, friends and fun. Listen to our 'always live' streaming station and our 12 streaming music channels, always free. Browse our Lifestyle Directory. Click here to like our Facebook page and here for Brazilian events coast to coast.