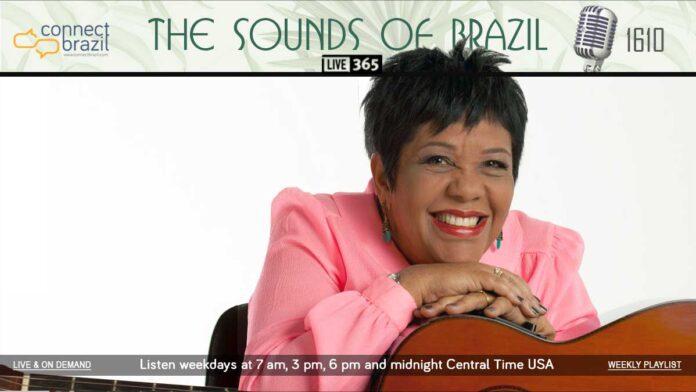 Rosa Passos Fan Favorites
'Rosa Passos Fan Favorites' is produced for your listening pleasure by Connect Brazil. Live365.com is the official streaming radio partner for The Sounds of Brazil!
| Air Date: 04-09-23 through 04-16-23
| On-Demand: 04-09-23 through 04-23-23 here.
This two-hour program airs 4X daily on our streaming Station. You are invited to listen, Monday to Friday at 7 am, 3 pm, 6 pm, and midnight Central Time (US). Weekend times, too:
On The Radio: Listen to The Sounds of Brazil every Sunday, 2-4 pm on Chicago's 90.9 FM WDCB and streaming live at wdcb.org.
On-Demand: Click here to listen to this program anytime through April 23, 2023.
Sign up for our emails on music, travel, friends & fun. Click here to like us on Facebook.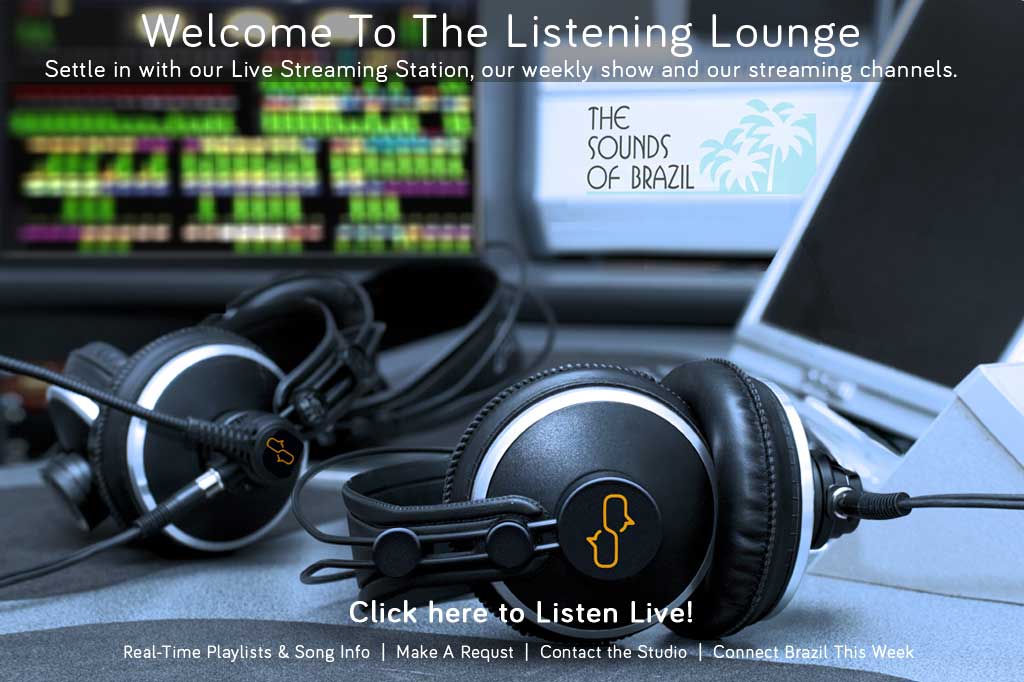 Daily Listening Schedule | Time Zone Converter | Connect Brazil This Week
Make A Request | Send a message to Scott
Welcome!
Even in our connected culture, Brazil is still half a world away for most of us. Thankfully, that distance – at least when measured in musical terms – is erased with ease and grace, courtesy of the country's abundant wealth of talented singers and songwriters.
Rosa Passos is one of Brazil's best, and you'll soon hear why when you listen to our weekly show this time around. It's Brazilian Jazz Appreciation Month. Enjoy!
Get Connectbrazil's weekly e-letter here.
B-JAM!! April is Brazilian Jazz Appreciation Month and you are invited to watch our daily streaming feature at the bottom of the hour, weekdays between 9 am and 3 pm CT. On America's premiere streaming station for Bossa Nova, Brazilian jazz and crossover hits from both sides of the equator! Listen here.
~ ~ ~
Back2Back! Our top-of-the-hour two-in-a-row features new music – every Wednesday, plus a surprising two-fer every Monday and Friday, too! Listen Live at 11 am 2 pm and 5 pm Central on the PLAY button at the bottom of your screen!
~ ~ ~
Spring Sundays are made for relaxing, so let The Sunday Brazilian Brunch provide the perfect soundtrack for a potpourri of the softer side of Brazilian song! You're invited to join us every Sunday for three hours at 5 am (for our international listeners) at 9 am and again at 2 pm and 8 pm CT. Click the play button at the top of this page.
~ ~ ~
Make A Request! Have a favorite song, style, or musician? I'd be happy to play it for you! Click here to place a request.
~ ~ ~
This week's show:
Rosa Passos Fan Favorites – Hour One
Hour 1:
Set 1: The Sounds of Brazil Opening Theme
If I Fell<>Nando Lauria/Points Of View
Bossa Love<>Marcos Ariel/4 Friends
Samba Da Minha Terra<>Joao Gilberto/Legendary
Welcome to The Brazil Club Lounge
Feitico Da Vila<>Roas Passos/Best of Rosa Passos
Set 2:
Introduce Next Set
O Pato<>Rosa Passos/Amorosa
My Only Passion<>Marcos Ariel/My Only Passion
Introduce Next Song
Stay<>Kenny Rankin & Rossa Passos/Here In My Heart
Aula de Matematica<>Winter & Castro-Neves/Brazilian Days
Ocean Way<>Torcuato Mariano/Last Look
Set 3: Introduce This Week's Spotlight Song
Fim de Verão<>Slowdown/Retrospectives
Francesa<>Ricardo Silveira/Storyteller
Here's That Rainy Day<>Chris Botti-R. Passos/To Love Again
________________________________________________________
________________________________________________________

Rosa Passos Fan Favorites – Hour Two
Hour 2:
Set 1:
Sulla Vespa<>Mazzachigno/Cafe Roma Vol 2
Voo Sobre O Horizonte<>Marcela Mangabeira/Simples
Welcome To Our Second Hour
Tin Tin Por Tin Tin (Little By Little)<>Joao Gilberto/Amoroso
Belem, Minha Cidade<>Bobby Brazil/Amazonica
Flap<>Deodato/Skyscrapers
Special Announcement
Set 2: Introduce Our Featured Artist
Voce Vai Ver<>Rosa Passos/Amorosa
I Wanna Be Where You Are<>Bob Baldwin/Brazil Chill
Introduce Next Set
September Samba<>Indigo City/Samba Electrique
Only A Dream In Rio<>James Taylor/That's Why I'm Here
Liana<>Toninho Horta/Moonstone
Set 3:
Dunas<>Rosa Passos/Festa
The Girl Is Mine<>Adam Dunning/Bossa With You
~ ~ ~
Next Week: We're 'Chillin' Brazilian' with a special program. Be sure to send me your requests for a favorite song, style, or musician, and drop a note in the Chat Box on the Lounge page!
Whether it's your radio, your computer at work, or your tablet or smartphone, thanks for tuning in! I really appreciate it, and please tell a friend or two about us.
And don't forget about our weekly broadcasts in Chicago: Sundays at 2:00 pm Central on 90.9 FM WDCB and wbcb.org.
View our complete daily broadcast schedule here.

Rosa Passos Fan Favorites