Live365.com is the Official Streaming Radio Partner for The Sounds of Brazil!
The Best of Djavan airs daily on our streaming Station from 01-22-20 through 01-28-20 Monday-Friday at 7 am, 3 pm, 6 pm and midnight Central Time (US). Weekends, too. On The Radio: Listen to The Sounds of Brazil every Sunday, 2-4 pm on Chicago's 90.9 FM WDCB and streaming live at wdcb.org.
On Demand: This program is available for repeat listening from January 12th to January 26th, 2020. Click here to Listen.


Welcome,
We're already counting down the days until February and that means that we're already more than a third of our way through winter – and with Carnaval just a few quick weeks away, who can resist the urge to look past the rest of it? But don't overlook these helpful notes. They'll help make the snowy season – or at least another week of it – go by even quicker:
Happy Listening,
Scott Adams
Bone-chilling cold in the days ahead begs for a seasonal Brazilian treat so try an easy recipe for Warmed Brazilian Spiced Cider, my original take on Brazil's traditional Quintao, click the image below for how to do it, along with the story behind this one-of-a-kind sipper, plus a perfectly-paired song, too! Of course.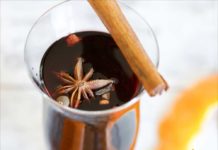 R-E-L-A-X with The Sunday Brazilian Brunch. It's perfect for smoothing out the bumps of a busy week. Three full hours every Sunday beginning at 5 am Central, and then again at 9 am, 2 pm and 8 pm. No app needed when you click the 'play' arrow at the bottom of every page at Connectbrazil.com.
~ ~ ~
Our Streaming Station's popular Brazil Back2Back segment has growen to a third play every Monday, Wednesday and Friday. Listen at 11 am, 2 pm and 5 pm Central. Always two of a kind, and always two in a row! Have an idea for an upcomiong Brazil Back2Back? Click here to make a request.
~ ~ ~
The Best of Djavan
Hour 1:
Set 1: The Sounds of Brazil Opening Theme
Sensual Bossa<>Caibedo Island/A Caibedo Tale
The Vendor<>Ricardo Silveira/Small World
Stay<>Astrud Gilberto/A Certain Smile, A Certain Sadness

Welcome to The Brazilian Club Lounge
Cigano<>Djavan/Puzzle of Hearts

Special Announcement

Set 2: Introduce Our Next Set
Me Deixa Em Paz<>Leo Gandelman/Black Pearls
Café Roma<>Brass/Cafe Roma 3
Introduce Next Set
Miss Susanna<>Djavan/Bird Of Paradise
Morning Waves<>Atlantico/Always
Like A Prayer<>Danni Carlos/Danni
Set 3: This Week's Spotlight Song
Esplendor<>Djavn w/Jorge Drexler/Vesuvio
Te Querendo<>Azymuth/Brazilian Soul
Am I Wrong for Loving You<>Maysa/A Woman In Love

The Best of Djavan
Hour 2:
Set 1:
Serrado<>Nestor Torres/Dance of The Phoenix
Welcome To Our Second Hour
Sim ou Nao<>Kenia/Initial Thrill
Maçã<>Café Jam/Café Jam
Puzzle of Hearts<>Kenny Rankin/Here In My Heart

Special Announcement
Set 2:
Introduce Our Next Set
Esquinas<>Djavan/Petela
Super Ambient<>Bossacucanova/Ipanema Lounge V.1

Introduce Next Song
Like Ours<>Tom & Julie/Bossa Tres Jazz 2
Baubles Bangles & Beads<>Deodato/Prelude
Linha Do Equador<>Djavan/Coisa De Escender

Set 3:
Coração Leviano<>Djavan/Malasia
My Nichole<>Indigo City/Samba Electrique
Next Week: Long nights, long songs! Right on time, it's the Winter edition of 'Longs Songs' here on The Sounds of Brazil. Songs that take a long. long time becasue they have a lot to say! You're invited to take some time to tune in! I hope you'll enjoy the program this week, too and please – tell a few friends about us! It's always great to share the music.
Whether it's your radio, your computer at work or your tablet or smart phone, thanks for tuning in! I really appreciate it, and please tell a friend or two about us. And don't forget about our weekly broadcasts in Chicago: Sundays at 2:00 pm Central on 90.9 FM WDCB and wbcb.org.
View our daily streaming schedule here.
The Best of Djavan on The Sounds of Brazil