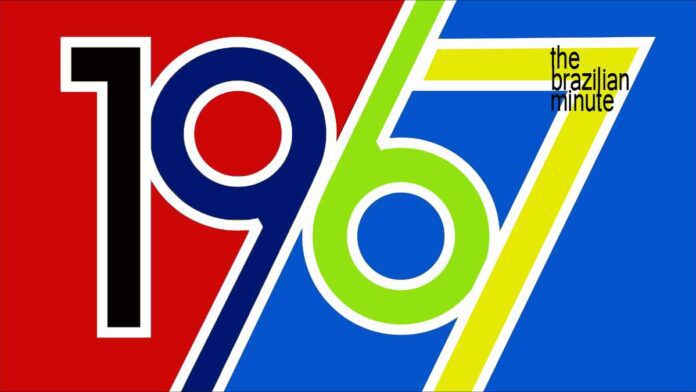 1967 is a year to remember
Brazilian Music's Most Amazing Year was made possible by decades of impressive musical milestones.
This series was presented by the Consulate-General of Brazil in Chicago and the Brazilian Foreign Ministry's Cultural Department.
In celebration of Brazil's Bicentennial year, 1822 – 2022
This week's Brazilian Minute: Brazilian Music's Most Amazing Year


Script from Audio:
Are you a Brazilian music fan? 1967 is a year to remember.
Gal Costa, Gilberto Gil, and Caetano Veloso made their recording debuts. The Beatles released 'Penny Lane' and Brazil responded with Tropicália. And Deodato signed Milton Nascimento to his first contract, with Verve Records in New York.
Marisa Monte was born on July 1st, 1967. Astrud Gilberto released Beach Samba, Brazil 66 released Equinox and Antonio Carlos Jobim released three albums: A Certain Mr. Jobim, Wave, and the legendary Sinatra and Jobim.
Elis Regina sang 'O Cantador', winning the Best Performance award in Sao Paulo in 1967. English lyrics changed its name to 'Like A Lover', one of the most popular songs ever recorded by Sergio Mendes and Brasil 66.
Read and listen to new weekly episodes of The Brazilian Minute.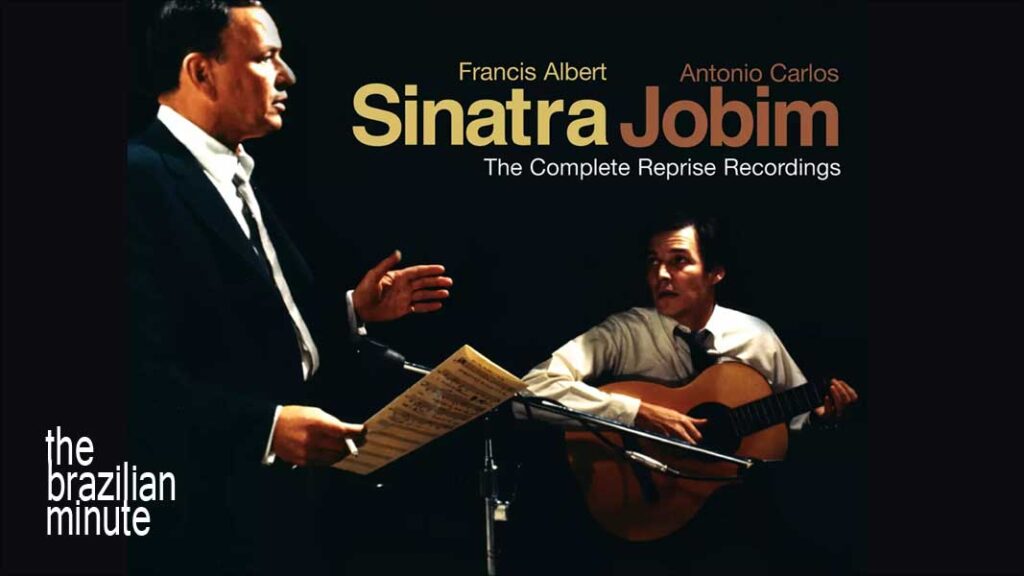 More on: Brazilian Music's Most Amazing Year
Overview:
What's in a year? Brazilian music fans know the important ones.
History points to Donga's recording of 'Pelo Telefone' for the birth of Samba in 1916. Carmen Miranda arrived in New York in 1939 to become Brazil's first international star of screen and song.
That was the same year that Ary Barroso penned his country's first international hit song, 'Aquarela do Brasil'. He was Brazil's most respected songwriter of his day.
Walt Disney heard the song in a Hotel lounge in northern Brazil during the summer of 1941. Impressed, he immediately sought a meeting with the composer in Rio de Janeiro. It was during that meeting that the song's title was given a new colloquial name. 'Brazil'.
A year later, Barroso's song was included in Disney's hit animation film, Saludos Amigos, and by 1945, it had accumulated more than 2 million plays on US radio and television.
1957? That was the year João Gilberto recorded Bossa Nova's first song, 'Chega de Saudade' (with apologies to Elizete Cardoso's version).
We'll jump ahead to Stan Getz with Charlie Byrd for their incredible Jazz Samba album five years later and then two more years for Getz Gilberto and 'The Girl From Ipanema.'
Whew.
That's a lot of musical history for just the past 60 years. And while it set the table for what was to come, it can't compare to what happened next.
1967 Is Brazilian Music's Most Amazing Year
First, let's begin with a birthday. Marisa Monte was born on July 1, 1967.
Rock music's Summer of Love in '67 affected not only England and America but also Brazil. Bossa Nova's optimism had been replaced by Tropicalia's cultural rebellion.
Many of Bossa Nova's rising stars began to look to the USA for new opportunities. And those opportunities happened quickly.
For instance, pianist Manfredo Fest emigrated to the US in 1967. He was soon hired by Sergio Mendes to lead Brasil 66's opening act, Bossa Rio. Manfredo was honored with a Google Doodle this year.
Culture is often the catalyst for creativity and the stories that came out of Brazil in 1967 are epic.
Here are a few musical vignettes from that amazing, energized year.
Sergio Mendes
By the time Mike Curb had completed Sergio Mendes and Brasil '65, for Capitol Records, that band had gone sideways.
Rosinha de Valença and Jorge Ben were ready to return home, after a whirlwind tour of Mexico and the USA. Wanda Sa had Roberto Menescal and a studio deal for her debut album waiting for her in Rio.
During a two-week stint in Los Angles, Mendes dropped off a demo tape with fledgling A&M records. Herb Alpert liked what he heard, and it wasn't long before Sergio's Brasil '66 was signed to the label. Ultimately, Sergio recruited new musicians, including Chicago's Lani Hall as lead vocalist.
1967 was Brasil '66's sophomore year and it yielded two 'must have' albums. Both Equinox and Look Around have recording dates in February 1967.
Equinox gave us 'Constant Rain' (Chove Chuva), 'Cinnamon and Clove', and 'Night and Day. Look Around featured the hit songs 'Like a Lover', 'The Frog', 'The Look of Love', and 'So Many Stars'. Sergio went on to collect more hit songs. How many?
Milton Nascimento
Sometimes, the most astounding details about Brazilian music emerge with a little bit of research. This story brings together three powerful names in Brazilian music. Milton Nascimento, Deodato, and American producer Creed Taylor.
Simply put, without talented people like Herb Alpert and Creed Taylor, Brazilian music outside of Brazil might never have caught on the way it did in the early '60s.
Young Taylor had been tapped to lead Verve Records. Surely, the 'B' page (for 'Brazil') in his little black book included Eumir Deodato, a rising piano and arranging star from Rio de Janeiro. When Deodato mentions that he would be judging the 2nd International Festival of Song competition in Rio, Taylor was intrigued.
Fate played its card when a young songwriter named Milton Nascimento is ready to be eliminated by the judges after only the first round. All but one. Deodato lobbied for Nascimento to advance, and Milton ultimately finished second.
That day also sparked a lasting friendship between Milton Nascimento and a young pianist named Antonio Adolfo. Read the story about their early times together.
Milton's Hidden History
But here's a detail you may not know. Deodato quickly called Taylor in New York to discuss Nascimento's performance. Taylor approved, giving Milton Nascimento his first recording contract with an American label. The date? October 22, 1967.
Taylor's love of Brazilian music includes all of Stan Getz's original Bossa Nova albums, including Getz Gilberto, and so many more.
And when Taylor left Verve to start his own label, he turned to this next Brazilian for its first release.
Antonio Carlos Jobim
Ahh, 1967. Could any one year be considered 'best' for the only Brazilian to be accepted into the Songwriter's Hall of Fame?
You can decide.
Jobim's year of years actually began with a phone call from Frank Sinatra. It was an invitation to record with Sinatra in Los Angeles. So Jobim flew north and on January 30th, 1967, found himself in Hollywood at United Western Recorders studio.
Six Jobim songs are included on this 28-minute album, which was released in March 1967. It was nominated for Album of the Year at the 1968 Grammy Awards. Francis Albert Sinatra & Antônio Carlos Jobim lost to the Beatles , for Sgt. Pepper's Lonely Hearts Club Band.
For most musicians, being invited to record with the world's most famous singer might be enough for one year.
But Antonio Carlos Jobim recorded and released two more albums in 1967.
A Certain Mr. Jobim was released in August 1967. It reunited Jobim with his favorite arranger Claus Ogerman. They had worked together for Jobim's debut as a solo recording artist in 1963, with The Composer of Desafinado Plays. The album features 10 Jobim originals, with several sung in English by the composer.
Jobim's Legendary Wave
Last, but certainly not least is Wave, the first album released by producer Creed Taylor's new CTI Records imprint for A&M.
Wave was recorded in late spring and released in October 1967. The all-star cast of musicians includes Brazilian drummers Claudio Sloan and Weather Report's Dom Um Romão.
Here, Jobim's music is center stage. The title track, plus songs like 'The Red Blouse', 'Triste', and 'Antigua' remain jazz standards, but a personal favorite has to be 'Batidinha'. As fresh and inviting as any lasting memory of a Copacabana sunset could be.
Wave by Antonio Carlos Jobim rose to 114 on Billboard's Hot 200 Albums chart and made it to 5 on the magazine's US Jazz Albums chart for 1967.
Tropicalia's Coattails
Each of these entries in Brazil's musical diary for 1967 is noteworthy. But Brazil's 1967 headline has to be the powerful, but short-lived Tropicália movement. You can read about it here.
Three young and talented voices emerged from Tropicália's influence and they made their presence felt in 1967.
Two from this trio made their recording debuts together that year. Gal Costa and Caetano Veloso's Domingo (Sunday) was recorded at Phillips Studios in Rio de Janeiro and produced by Dori Caymmi.
The date and the style precede Tropicália's signature. The album is thought of as a post-Bossa Nova production, albeit without the romantic lyrics or optimism of early-60s Brazil.
Both Costa and Veloso have gone on to define Brazilian pop music and MPB for generations of Brazilian music fans.
Fellow Tropicália alumni Gilberto Gil also made his recording debut in 1967. Louvação (Praise) is also a safe and solid recording for a first album.
It's remarkably different than his self-titled sophomore album from early '68. But Louvação clearly shows the talent and potential of the young singer who is an international icon and Brazil's former Minister of Culture.
Brazilian Music's Most Amazing Year is 1967
These are just three stories from Brazil's 1967 page in musical history. But there are so many more.
Here's a brief list of albums that were new in 1967:
Jorge Ben: Jorge Ben O Bidu: Silencio No Brooklyn
Gal Costa and Caetano Veloso: Domingo
Jorge Ben – Big Ben Strikes Again
Sadao Watanabe: Bossa Nova 67
Neco: Velvet Bossa Nova
Lennie Dale & Antonio Adolfo's Trio 3D A 3a Dimensao De Lennie Dale
Brazilian Bitles: …E Onda
Milton Nascimento: Travessia
Vikki Carr: Intimate Excitement
Steve Lawrence and Eydie Gorme: Steve & Eydie, Bonfa and Brazil
Walter Wanderley: Popcorn
Frank Sinatra & Antonio Carlos Jobim: Francis Albert Sinatra & Antônio Carlos Jobim
Sergio Mendes & Brasil '66: Equinox
Astrud Gilberto: Beach Samba
Antonio Carlos Jobim: A Certain Mr. Jobim
Sergio Mendes & Brasil '66: Look Around
Antonio Carlos Jobim: Wave
The Tijuana Brass: A Banda, single (written by Chico Buaque)
Bola Sete: Bola Sete At The Monterey Jazz Festival
Walter Wanderley: Organ-ized
Gilberto Gil: Louvação
Walter Wanderley: Brazilian Blend
Herbie Mann: The Book On Bossa Nova
Roberto Menescal E Seu Conjunto: A Nova Bossa Nova
Walter Wanderley: Batucada
Charlie Byrd: More Brazilian Byrd
Edu Lobo e Maria Bethânia: Edu E Bethania
Sônia Rosa – A Bossa Rosa De Sônia
Herb Alpert And The Tijuana Brass* – Herb Alpert's Ninth
Edu Lôbo – Edu
Zimbo Trio – Zimbo Trio + Cordas – É Tempo De Samba
MPB4 – MPB4
Elis Regina – Travessia (7″ single)
Edu Lobo / Nara Leão – Ponteio / Carolina (7″ single)
Caetano Veloso – Alegria, Alegria
Jorge Ben – From Brazil
Erasmo Carlos – Erasmo Carlos
Trio Esperança – A Festa Do Trio Esperança
Nara Leão – Vento De Maio
Various – Trilha sonora do filme "Garôta de Ipanema"
Claudette Soares – Claudette Soares
Various – 3º Festival Da Música Popular Brasileira – Vol. 1 Vol. 2
Ronnie Von – O Novo Ídolo
Vinicius – Vinicius
Nara Leão – Nara
Norma Bengell – Canto de Ossanha / Água de Beber (7″ single)
Chico Buarque De Hollanda – Chico Buarque De Hollanda Volume 2
What's Next For Brazilian Music?
Clearly, the decades of Brazilian creativity throughout the 20th Century, plus Brazil's unique cultural relationship with the USA helped to make 1967 the year that changed everything.
What happens next? Brazilian musicians here and back home, and all around the world are writing new chapters for the music we love.
Music, Travel, Friends and Fun! 2022 marks Connect Brazil's 25th year.
Brazilian Music's Most Amazing Year
Did you enjoy 'Brazilian Music's Most Amazing Year'? If you did, why not join us at Connect Brazil?
Sign up for our emails on Brazilian music, travel, friends, and fun. Listen to our 'always live' streaming station and streaming music channels, always free. Visit us on Facebook, and Twitter, and browse our Lifestyle Directory for Brazilian events coast to coast.