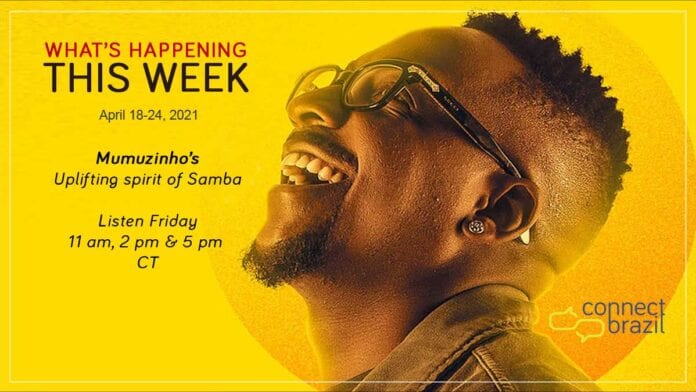 Rio's optimistic Pagode star raises Brazil's spirits, just when it's most needed. Connect Brazil's weekly digest keeps you informed and up to date with the best of Brazil. What will you discover?
---
Mumuzinho lifts your spirits. It's an irrefutable musical fact, one that is appreciated by Brazilian everywhere these days.
The 37-year old samba singer and actor channels good cheer into his music so often that you can count on his cheerful perspective to shine through the lyrics of every song he sings. Even if you don't understand a word of Portuguese, you'll pick up on it, especially if you catch any of the videos on his YouTube channel (see below).
Starting out as a background singer before launching his solo career, Mumuzinho is currently a judge for TV Globo's highly successful The Voice +: Brasil.
But COVID-19 nearly claimed his life nearly a year ago. Read the complete story here.
Brazil Back2Back: Listen this Friday at 11 am, 2 pm and 5 pm CT, top of the hour for two in a row from Mumuzinho. Exclusively on our streaming station at Connect Brazil.
TOP STORIES
Connect Brazil's Weekender arrives in your inbox next Thursday! Read a current issue and sign up here.
Spotlight Song: Mumuzinho 'Mantra'
STREAMING MUSIC NEWS
This week, we're Chillin' Brazilian on The Sounds of Brazil. Listen 4 X daily and on-demand through April 4th. The playlist and Producer's Notes are here.
ON OUR STREAMING STATION
Yaking you away from your part of the world, to ours: Our streaming station is a jazzy blend of breezy bossas and crossover hits from both sides of the equator. Always free and always live, this is music you can live with!
Treat your ears to our unique blend. Our streaming station is the perfect choice for the sunshine season. Listen for these songs this week during The Midday Show with Scott Adams (M-F, 9 am to 3 pm CT).
'Doubleface' – Al Jarreau
'Cafe Roma' – Cafe Roma (Instrumental)
'Azul' – Mahmundi
Listen for these songs and thousands more on our always-live streaming station, and click here for all of our streaming music channels.
Best way to listen? Connect Brazil's Listening Lounge.
Brazil Back2Back
Always two-of-a-kind and always two in a row when you listen at the top of the hour, at 11 am, 2 pm, and 5 pm (US Central) Monday, Wednesday & Friday.
Here's this week's lineup:
Monday, April 19 – Minas Brazilian Jazz
Wednesday, April 21 – New Music Wednesday: Fred Martins and Lucas Felix with Lucy Alves
Friday, April 23 – Bossa Nova Breeze
Next week on Brazil Back2Back:
Monday, April 26 – 90s Brazilian Jazz
Wednesday, April 28 – New Music Wednesday: Alexia Bomtempo & Richard Sorce
Friday, April 30 – Emilio Santiago
Visit the Listening Lounge to listen live, for real-time playlists or to request a song.
New Music: Lucas Felix with Lucy Alves 'Lua e Estrela'
Listen to this song on Connect Brazil's always-live streaming station, 24/7, worldwide.
EVENTS
Connect Brazil's Events section has the early line on entertainment recommendations for Spring with more live venues, and club dates added regualrly. And musicians can post thier events for free, anytime.
We have a full slate of streaming and virtual events for pianist Gregg Karukas posted. Enjoy live club dates and livestream Brazilian jazz concerts with Philly's Minas, or St. Pete's Nate Najar Trio with Daniela Soledade, You'll find virtual Brazilian cooking and Zumba classes, even the return of Brazilian Jazz to San Antonio's Riverwalk.
Plus your pick of full length, on-demand virtual Brazilian jazz concerts, too.
Click here to browse upcoming events.

THE BRAZILAIN COMFORT FOOD GUIDE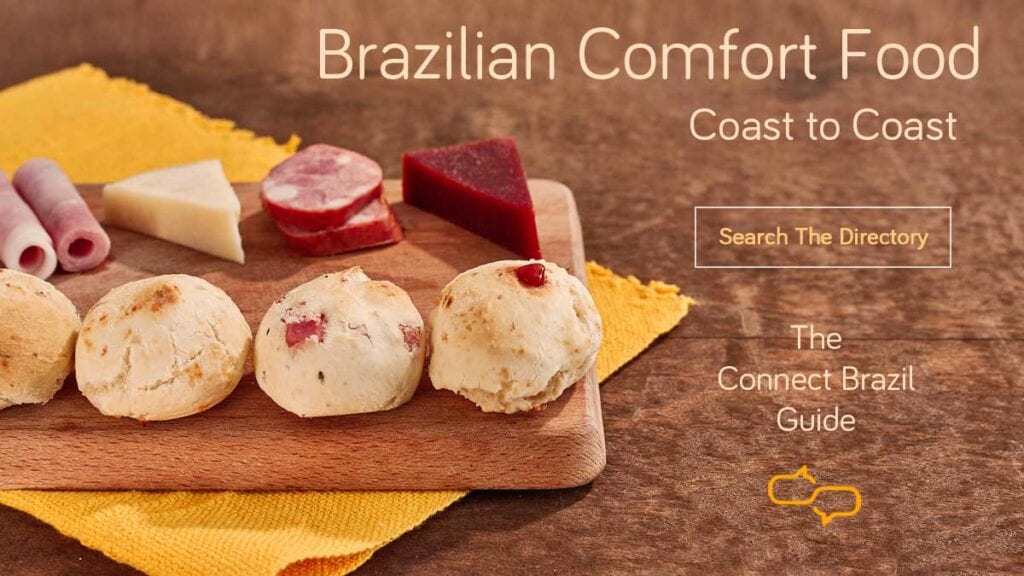 Browse Brazilian eateries, cafes and markets near you, coast to coast
Africa, Portugal, Japan, and Italy. America and indigenous Brasil. Hundreds of family-owned Brazilian restaurants, coffee houses and cafes, bakeries, and grocery markets coast-to-coast are ready to share these international influences with you and your family.
Connect Brazil is donating its services to spread the word about the tasty rewards of your patronage.
We hope that you will do the same by placing an order soon with an eatery near you. Your support makes everything taste better. Even Brazilian cheesebreads!
Mumuzinho Lifts Your Spirits: Connect Brazil This Week
Stories like 'Mumuzinho Lifts Your Spirits: Connect Brazil This Week' are what we do. Why don't you join us?
Sign up for our emails on music, travel, friends and fun. Listen to our 'always live' streaming station and our 12 streaming music channels, always free. Browse our Lifestyle Directory. Click here to like our Facebook page and here for Brazilian events coast to coast.