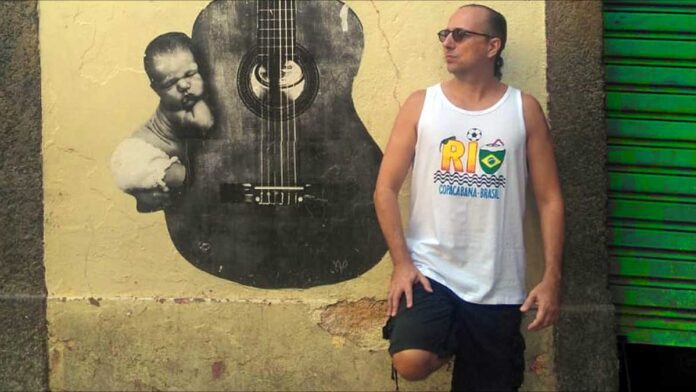 What do musicians do Just for fun? Ask Phill Fest.
Phill Fest sings a slice of life that each of us knows all too well. And he rounded up a who's-who list of talented musicians to help you smile.
---
by Scott Adams
As fans, we love to learn more about the music and the musicians we follow. It's only natural. But sometimes it's easy to forget that musicians are just like you and me.
They go shopping or to the beach. They go to school or work, to entertain fans like us. And just like us, you never know what the day will bring.
Take this spontaneous slice-of-life song from Phill Fest, for example. It's the lighthearted two-minute recreation of a situation we've all been in at some point. Phill explains.
"My wife, Isabel, and I have a Brazilian friend named Dayana living in the complex across the street from ours. Her husband owns a few gas stations here in the West Palm Beach area. We try to use one in particular because the price per gallon is typically the best in town. So….whenever we'd be driving around, running errands and whatnot, we'd always say: 'Vamos pra bomba da Dayana' or 'Let's go to Dayana's gas station'.
"In Brazilian Portuguese, the phrase 'gas station' is 'bomba de gasolina' or simply 'Bomba'.
"And 'Bomba da Dayana' just had a bouncy ring to it. So I decided to write a song about it," says Phill.
Phill Fest Sings A Slice Of Life: The Studio
About a year ago, Phill decided to record the song, just for fun. And he turned to a bunch of friends in the Tampa Bay area to help him make it special.
"First, I called Ronnie Dee. He's the son of Joey Dee, who had a #1 hit with the Starliters in 1962 called 'Peppermint Twist'. Ronnie co-owns a studio called All Access Recording.
"I toured as a Starliter from 1990-95 and during that time we all were members of another group called Deeforce, an all-original, eclectic rock band that almost got signed to Chrysalis Records in '94.
"So, Ronnie co-produced, sang backup, and played tenor sax on 'Bomba da Dayana' along with fellow Deeforce/Starliter Andy Beer's bari sax.
I called up Gumbi Ortiz, Al Di Meola's percussionist. He's just an amazing player with a beautiful soul. And I called on Patrick Bettison, who played bass on many of the classic Acoustic Alchemy recordings from the late 80s and early 90s. He's playing keyboards on our song."
So how about that? Phill Fest brings together a talented group of musicians just to have a little fun. If you listen closely, you might catch a pair of musical quotes in the song, too. Did you?
Good times. And just like us, musicians have their share of ups and downs. Let me tell you about a recent career win for Phill Fest.
You're going to love it.
Catching Up With The Fest Family
Last summer, Connect Brazil was touting the creative success of Phill Fest's Seresta album, which is still finding its way onto personal playlists as one of the best Brazilian jazz albums of 2022.
It was a milestone year for the Fest family. On May 13th, Phill's father, pianist Manfredo Fest was honored by Google with his very own Google Doodle. The event celebrates his birthday and his lifelong contributions as a master of Brazilian jazz. And Phill's mother, Lilli gifted Seresta's track list with 'Song For My Son'.
Phill Fest And A New Association
And then, just weeks ago, Phill called to share some exciting news for Brazilian jazz fans like you and me.
"I'm extremely happy to announce that I'm joining forces with Ella & the Bossa Beat! Magrus Borges and I have been friends for over 20 years now and I've known Ella since she was three. Of course, today, she's blossomed into a world-class singer, pianist, and composer.
"I was invited to join Ella & the Bossa Beat for their June 24th concert at Orlando's Blue Bamboo, and it was instant musical simpatico! We plan on recording and touring together in the very near future," says Phill."
Tapping Into Our Own Musical Memories
Listeners of our weekly syndicated show and our live streaming station still make requests to hear 'Dancing With Angles'. Recorded by Magrus & The Rainforest Band, the song goes back to our earliest days on the radio in the early 90s.
And if you check the liner notes for Manfredo Fest's albums on Concord Records, you'll see Phill Fest listed as the guitarist. Priceless recordings.
When it comes to his friendship with Magrus, Phill Fest has more than a few of his own. Here's one of them.
"One of our highlights together was backing up Pery Ribeiro (he's the original singer of 'Girl From Ipanema') in 2003. That was at the time when the real-life girl from Ipanema, Helo Pinheiro, was on the cover of Playboy Brazil with her daughter.
"She was in Miami promoting the magazine during the week of the concert, and then, she joined us on stage, to sing 'The Girl From Ipanema' with Pery! That a memory that Magrus and I will always share."
Yes, we're all alike. And who knows what tomorrow will bring?
We can't wait!
Bomba da Dayana by Phill Fest
Buy Phill's music here: Amazon Music | Apple Music
Listen to Phill Fest on: XODO! | Brazilian Jazz | New Music: Brazil | Our Streaming Station
Music, Travel, Friends, And Fun!
Phill Fest Sings A Slice Of Life
Stories like 'Phill Fest Sings A Slice Of Life' are what we do. Why not join us? Join our list. Listen to our live streaming station and 15 streaming channels, all free. Browse our Lifestyle Directory and events coast to coast. And follow us on Twitter and Facebook.