Connect Brazil's weekly digest keeps you informed and up to date with the best of Brazil. What will you discover?
---
Toco's Sao Paulo sambas are especially buzzworthy this week. Tomaz Di Cunto celebrates a birthday this Friday – the only Friday the 13th of 2021 – and that's good luck for us all! Read more about this talented New Bossa star below. A week's worth of Brazilian vibe and more waiting on the homepage at Connect Brazil.
COVER STORY
Born in Sao Paulo, guitarist Toco (Tomaz DiCunto) got his start with musical and television productions during the late '90s. Then, a move to Italy quickly helped him become a staple of Italy's Schema label and the New Bossa sound.
He was paired first with Nicola Conte and then with Rosalia de Souza's 'Garota Moderna' album.
So, it's no small wonder that he bridges Vinicius Cantuaria's laid-back style with the spirit of Toquinho and Vinicius de Moraes at their best. His albums often add S-Tone's Stefano Tirone to the mix, too. That allows Toco's breezy acoustic guitar, emotive vocals, and classic songwriting style to flow like rain off a palm leaf.
Toco's 'New Bossa' talents extend further than his voice and guitar. He has a real knack for writing pop songs with catchy hooks that encourage you to sing along. Classic, but with a contemporary feel.
Don't miss two in a row from Toco, on our streaming station this Friday!
LISTEN LIVE THIS FRIDAY
You're invited to tune in for Brazil Back2Back when I'll cue up a pair of Toco's tunes on our live streaming station this Friday (8/13). Top of the hour, at 11 am, 2 pm, and 5 pm CT for two in a row.
Use the Connect Brazil Listening Lounge: Always free, always live.
Scott Adams, Midday Host
TOP STORIES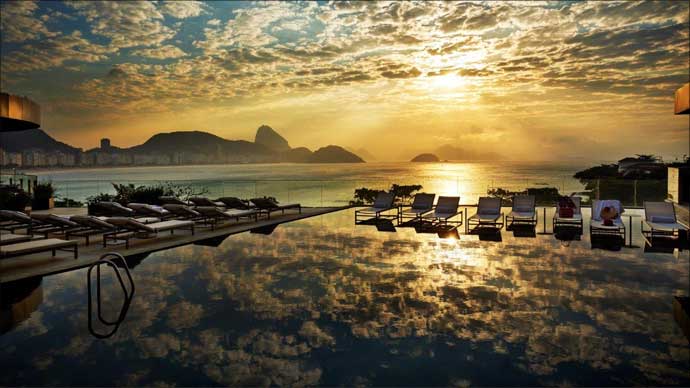 Connect Brazil's Weekender arrives in your inbox next Thursday! Read a current issue and sign up here.
This Week's Spotlight Song: Leo Gandelman – Solar
Listen for this song on our streaming channels, including Bossa Nova Love Affair, Cafe Copacabana, and The Sunday Brazilian Brunch.
STREAMING MUSIC NEWS
It's The Best of Marcos Ariel on The Sounds of Brazil. Two hours of listener favs from the Carioca keyboardist. Listen 4 X daily and on-demand through August 8th. The playlist and Producer's Notes are here.
Say hello to our newest affiliate! We are very pleased that Philadelphia's ijazzglobal.com is now streaming The Sounds of Brazil every weekend, Sundays at 10 am. Listen here!
ON OUR STREAMING STATION
Taking you away from your part of the world, to ours: Spend an hour with our jazzy blend of breezy Bossas and crossover hits from both sides of the equator. We are America's only 'Always Live' streaming station for Brazilian music.
Ready for the Dog Days of Summer? You'll need Brazil's best tunes, and here's how to make the Sunshine Season of '21 one to remember. Here are a few songs to listen for on our streaming station:
'Bluesette' – Victor Fields and Claudia Villela
'Batucada' – saxophonist Boney James
'Rainha' – Toco Featuring Nina Miranda
Listen for these songs on our always-live streaming station, and click here for all 10 of our streaming music channels.
Check out Connect Brazil's Listening Lounge.
Brazil Back2Back
Always two-of-a-kind and always two in a row when you listen at the top of the hour, at 11 am, 2 pm and 5 pm (US Central) Monday, Wednesday & Friday.
Here's this week's lineup:
Monday, August 9 – Back2Back birthdays: Leo Gandelman and Torcuato Mariano
Wednesday, August 11 – New Music Wednesday: The Knocks featuring Sofi Tukker, Till Bronner
Friday, August 13 – Toco
Next week on Brazil Back2Back:
Monday, August 16 – Bossa Nova Evergreens
Wednesday, August 18 – New Music Wednesday: Luca Mundanca, Roberta Campos
Friday, August 20 – Brasil Acustico
Visit the Listening Lounge to listen live, for real-time playlists, or to request a song.
New Music Spotlight: Cecy Santana & Hugo Ferreira – 'Um Amor Assim'
Listen for this song on our New Music: Brazil streaming channel, too.
EVENTS
Connect Brazil's Events section is adding summertime concerts from live club dates and livestream Brazilian jazz concerts with Chicago's Luciano Antonio, or St. Pete's Nate Najar Trio with Daniela Soledade, to virtual Brazilian cooking and Zumba classes, even the return of Brazilian Jazz to San Antonio's Riverwalk. Plus your pick of full-length, on-demand virtual Brazilian jazz concerts, too.
Click here to browse upcoming events.

THE BRAZILAIN BITES AND BURGERS GUIDE
Browse Brazilian Burgers, cafes and Food Trucks near you, coast to coast
Grillin' like a Brazilian? Not if it's raining. Or too hot. Or if you don't feel like it. Maybe, today is all about placing your order for delivery or pickup! That's where Connect Brazil's Brazilian Bites and Burgers Guide comes in handy.
You're just a tap or two away from the best of Brazil near you, so plan ahead. Our Lifestyle Directory delivers Brazilian goodness to your table.
Connect Brazil is donating its services to spread the word about the tasty rewards of your support.
We hope that you will do the same by placing an order soon with an eatery near you. Your support makes everything taste better. Even Brazilian picanha burgers!
Toco's Sao Paulo Sambas: Connect Brazil This Week
Stories like 'Toco's Sao Paulo Sambas: Connect Brazil This Week' are what we do. Why don't you join us?
Sign up for our emails on music, travel, friends and fun. Listen to our 'always live' streaming station and our 12 streaming music channels, always free. Browse our Lifestyle Directory. Click here to like our Facebook page and here for Brazilian events coast to coast.