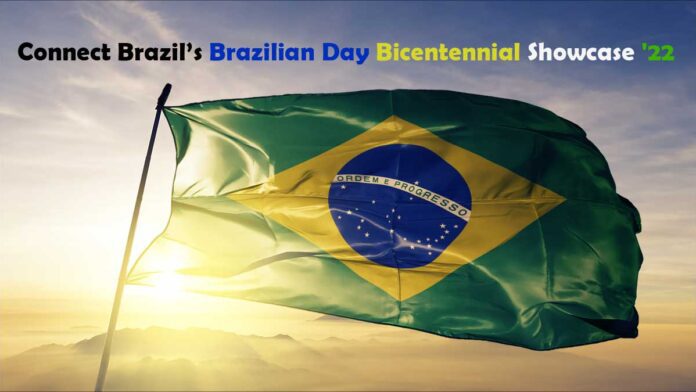 Celebrate Brazil's First 200 Years With The World's Best Music
Brazilian Day Bicentennial Music Showcase '22! Celebrate Brazilian Independence Day for its Bicentennial. Here's our video list of new songs and artist-selected picks. Parabens!
---
Presented by AccuRadio
Brazilian Independence Day! This year it's a once-in-a-lifetime event. It's Brazil's Bicentennial, and naturally, we'll need a soundtrack to celebrate.
It's time to share the love with our video list of the best new sounds plus classic hits for late-Summer.
Every song on our Brazilian Day Bicentennial Music Showcase '22 is already playing on our streaming channels and on our always live streaming station at Connect Brazil.
And we have a special surprise for you this year. Be sure to check out each song carefully and you'll be rewarded with a unique musical 'easter egg'!
Which of these songs will make it to your personal playlists this fall? Celebrate your musical freedom – and Brazil's too!
But wait, there's more!
Watch for our Brazilian Harvest Music Showcase on October 22nd!
Scott Adams, Midday Host
The Sounds of Brazil's streaming station at Connectbrazil.com
Brazilian Day Bicentennial Music Showcase '22
Trio da Paz | 'Hino Nacional Brasileiro' (Brazilian National Anthem)
The nation and people of Brazil are given our list's place of honor this year. How could they not? It's Brazil's bicentennial!
Our Brazilian Day Bicentennial Music Showcase '22 video list begins with the eternal Brazilian jazz group, Trio da Paz.
You'll find Brazil's anthem placed at the center of their 2005 album Somewhere. Acoustic and instrumental, this arrangement highlights its melodic beauty with respect and pride. Brazilian Independence Day is celebrated on September 7th.
This trio is at the epicenter of Brazilian jazz for more than 30 years. Guitarist Romero Lubambo, bassist Nilson Matta and drummer Duduka Da Fonseca are national treasures in their own right. These three Brazilian American musicians also pursue their own careers. They come together as Trio da Paz to record and perform.
Even among their many recordings, this is a special album. Somewhere holds 13 tracks of smoothly crafted Bossa Nova and Samba gems, including Leonard Bernstein's title song and 'Seven Step to Heaven' (Miles Davis).
You'll enjoy 'Take Five', Antonio Carlos Jobim's 'Look To The Sky', and Grover Washington Jr's 'Winelight', too.
Explore Brazil's best stories from its Bicentennial year. Listen and read here.
Buy it here: Amazon Music
Listen free on: Brazilian Jazz | Bossa Nova Love Affair | Sunday Brazilian Brunch | Our Streaming Station
Djavan | 'Num Mundo De Paz' from D
Slowly but surely, our lives are returning to normal.
That's true here, and in Brazil where Djavan has decided to gift us with a buoyant album that pivots on positivity, happiness, and our hard-fought freedoms.
His reasoning? "We need to believe in happiness. The pandemic brought a lot of sadness and a lot of negativity. I want to come with a message of optimism. I want people to believe in the future," he said.
D marks a return of the signature sound that a generation of fans here in the US fell in love with during the 80s and 90s. He returns to his swinging, melodic roots throughout these 12 tunes, of which 11 are newly penned for this release.
And he got the band back together, too. Well, parts of his best bands from past albums, including guitarist Torcuato Mariano.
Standout songs on D include the album's first single, 'Num Mundo de Paz' (In A World of Peace). Connect Brazil's streaming channel debuted the song right after its preview release in Brazil and listeners have responded to it with their ratings on AccuRadio's New Music: Brazil channel, too.
Read our complete review of Djavan's D here.
Buy it here: Amazon Music
Listen free on: New Music: Brazil | Brazilian Jazz | XODO! | Our Streaming Station
Daniela Soledade | 'Pretty World' from Pretty World
Intimate, comfortable, and honestly charming, Soledade (pronounced "so-leh-DAH-gee") delivers one of the most anticipated Brazilian jazz releases of the summer. These nine songs build on Pretty World's theme of exploring all of the love that life has to offer. Subsequently, there's plenty for us to discover throughout.
Recorded in Rio, the album's title invites us to stop whatever we're doing… to enjoy it. Pretty World opens with the Brasil 66 hit. However, it begins well into the song with Soledade turning the lyrics into a personal invitation:
We can gather rain enough for the stream, to hold our happy faces. When you want a breeze, I'll blow you a kiss or two.
That's Daniela's way of interpreting a story that was written to suspend reality, if only for a while. Possibilities…
New songs or evergreens, Daniela Soledade understands their importance. "If we stopped playing these songs, we could lose them forever."
Read our complete review of Daniela Soledade's Pretty World here.
Buy it here: Amazon Music | Apple Music | From the Artist
Listen free on: Brazilian Jazz | New Music: Brazil | Bossa Nova Love Affair | Our Streaming Station
Listen To The Brazilian Minute: The Brazilian Flag
Michael Ross | 'Four Seasons To Cross' from Four Seasons To Cross
Windy City born-and-raised; Michael Ross is part of the generation of musicians who have gone on to define Chicago's urban jazz scene. Four Seasons To Cross is his new album, recorded during the pandemic and released in late November.
Each of the album's 8 original songs carries Ross's musical perspective of a year-long journey through the challenging times we've all experienced. And just like Chicago's seasons, his music reflects the range of emotion, hopes, and imagination that carried us through.
Part of this album's journey carried Michael's imagination south, to the land of Samba and Sun. And just like the beaches at Ipanema and Copacabana, 'Hot In Brazil' and 'Four Seasons to Cross' bring us different views of paradise found.
If you already know Michael Ross's optimistic approach to life, then you know that there's no place for brooding. Four Seasons To Cross offers us the chance to smile, relax and revel in the promise of our tomorrows.
Read our interview and our complete review of Michael Ross's Four Seasons To Cross here.
Buy it here: Amazon Music | Apple Music | Hear Now
Listen free on: Bossa Nova Love Affair | Brazilian Jazz | New Music: Brazil | Our Streaming Station
The Milton Nascimento Streaming Channel | 'Cravo é Canela' from Clube da Esquina
This year marks the 50th anniversary of Clube da Esquina, Milton Nascimento's fifth album from 1972. But before that, the Clube da Esquina was a music collective.
Amazingly, this tight group of talented young musicians didn't come together in the shadow of Sugarloaf. They grew up on the red clay of the landlocked state of Minas Gerais. Their music reflected their homeland.
Clube da Esquina is one of Brazil's most important albums. A seminal recording that influenced Brazilian music for decades, elevating Nascimento to the world stage.
Milton Nascimento announced his retirement from live performances earlier this year. So we set to work on bringing The Milton Nascimento Channel to life during Clube da Esquina's anniversary year. The channel is free to listen to anytime, worldwide.
With Milton Nascimento set to tour the United States at the end of this month, we decided to launch his channel just ahead of Brazil's Independence Day, and its Bicentennial celebration.
What could be more fitting?
Read about Clube da Esquina and The Milton Nascimento Channel here.
Listen to Milton's music on: Brazilian Jazz | XODO! | Preciso Brazilian | Our Streaming Station
Listen To The Brazilian Minute: Explaining Rio's Selaron Steps
Ruy Castro | 'Bossa Nova'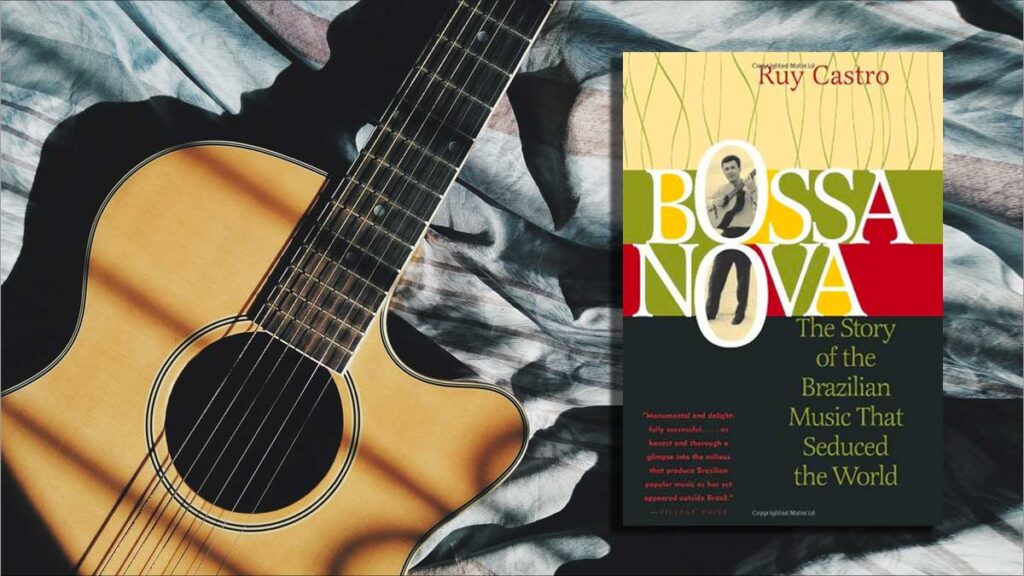 Looking for a great page-turner as we move from late summer to the golden rays of autumn? We recommend Ruy Castro's book, Bossa Nova.
As a journalist and music historian, Castro happens to be one of the greatest living personifications of all things Bossa Nova. Few of his books have made it to English translation, but happily, Bossa Nova is one of them.
What makes this book a pleasure to spend time with is the author's wit and insight, coupled with a clever sense of humor. And even in English, his personal and abiding relationship with Bossa Nova is crystal clear.
Bossa Nova is a deep dive into the real-life stories behind the music, and the personalities who created it. Chapters unfold in a movie-like fashion, drawing you into the stories of Rio's music scene from the late 50s through the 70s.
For die-hard Bossa Nova fans, nothing could be better!
Buy it here: Amazon
Listen to Bossa Nova free on: BossaNovaville | Bossa Nova Love Affair | Our Streaming Station
Philippe Saisse Featuring Marc Antoine | 'Lost Words' from Brasileiro
'Lost Words' is credited to pianist French Philippe Saisse and fellow countryman, guitarist Marc Antoine. But in a very meaningful way, it's also an Al Jarreau song. And all three musicians have made abiding connections with Brazilian music.
For Saisse, it's his 2006 piano romp on Jorge Ben's 'Chove Chuva' (Constant Rain) from The Body and Soul Sessions. Marc Antoine's love of Bossa Nova and Brazilian jazz is seeded throughout his long career in C-Jazz. For instance, we love his thoughtful take on Baden Powell's 'Deixa'.
That leads us to Al Jarreau. His ties to Brazil go back a long way.
His version of 'Mas Que Nada' (caught live on Tenderness in 1994) is a magnificent, jazzy re-invention. We remember how Jarreau's new lyrics brought a fresh message to George Duke's 'Summer Breezin' ('SomeBossa') on My Old Friend. And his vocals brought Brazilian energy to Deodato's 'Double Face' on The Crossing.
Right around Jarreau's' second visit to Rock In Rio, he and Phillippe Saisse were testing several original demos. One of them caught Jarreau's imagination, just before he fell gravely ill and was hospitalized.
But sometimes the best of intentions is met with the worst of humanity and at some point, the notebook was stolen.
Saisse was reportedly deeply saddened by Jarreau's death as years went by. When Saisse finally returned to the song, he decided to keep it as a tribute to his friend's passing. Saisse eventually completed it as an instrumental, keeping the Brazilian elements in place.
Saisse's decision is a reflection of his friendship, and a testament to Al Jarreau's talent and positivity for the song now known forever more as…
Lost words.
Website| Facebook | Instagram | YouTube
Buy it here: Amazon Music
Listen on: New Music: Brazil | Cafe Copacabana | Bossa Nova Love Affair | Our Streaming Station
Music, Travel, Friends, And Fun! 2022 Marks Connect Brazil's 25th Year
Brazilian Day Bicentennial Music Showcase '22
Stories like 'Brazilian Day Bicentennial Music Showcase '22' are what we do. Why don't you join us? Sign Up for our e-letter. Listen to our 'always live' streaming station and our 12 streaming music channels, always free. Browse our Lifestyle Directory. Click here to like our Facebook page and here for Brazilian events coast to coast.