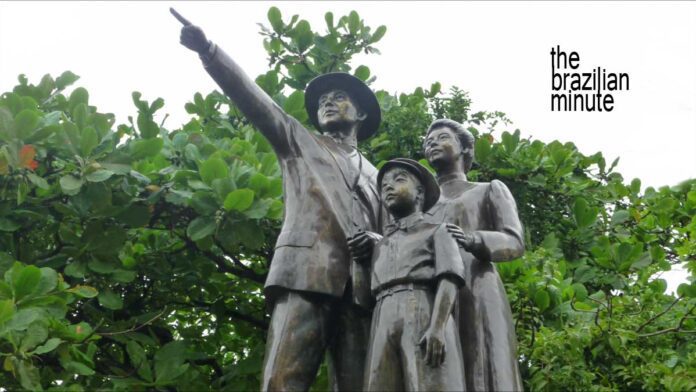 The first Japanese settlers arrived in Sao Paulo on June 18th, 1908.
The History of Japanese In Brazil is celebrated annually on this day, as National Japanese Immigration Day.
This series was presented by the Consulate-General of Brazil in Chicago and the Brazilian Foreign Ministry's Cultural Department.
In celebration of Brazil's Bicentennial year, 1822 – 2022
This week's Brazilian Minute: The History of Japanese In Brazil
Script from Audio:
Brazil celebrates Japanese Immigration Day on June 18th. It marks an important event in Brazil's history as a Melting Pot nation: The arrival of the first Japanese settlers from Southern Japan in 1908.
Japanese families left economic hardship in their own country to seek new opportunities and a better life in Brazil as coffee growers and farmers.
By the 1970s, Japanese Brazilians became leaders in architecture, business, politics, and the arts. Today, 2.3 million Brazilians are of Japanese descent. It's the largest population outside of Japan.
Japanese Brazilians are influencing Japanese culture, too.
Tokyo has the largest carnival parade outside of Brazil. Portuguese is the third most-spoken foreign language in Japan. And Bossa Nova, MPB, and Brazilian jazz are very popular there.
Read and listen to new weekly episodes of The Brazilian Minute.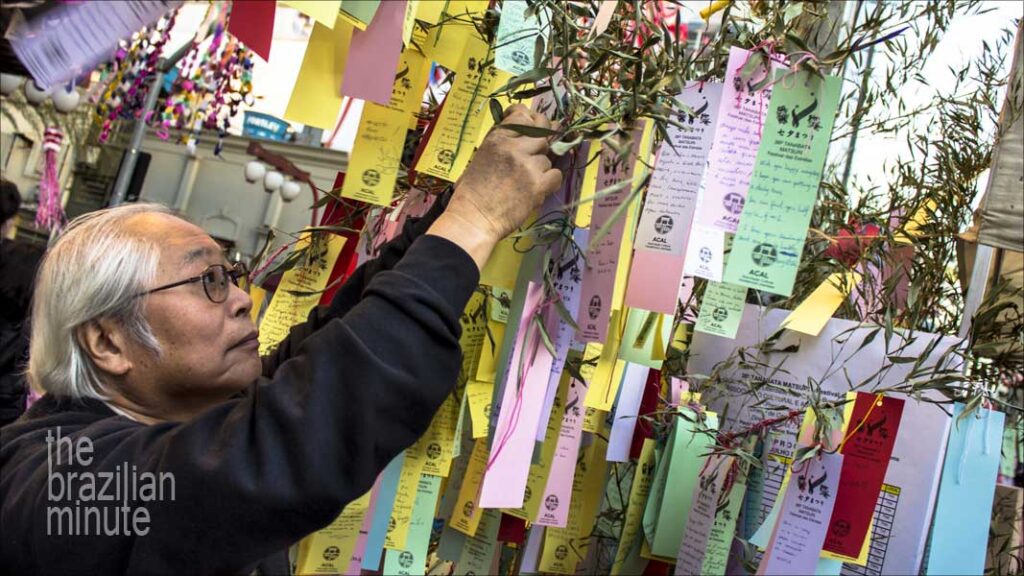 More on: The History of Japanese In Brazil
Overview:
Brazil is a melting pot nation, just like the United States.
Brazil can proudly claim the most people of Italian heritage outside of Italy. The largest population of Portuguese people outside of Portugal is found in Brazil. The same is true for the largest population of Spanish settlers outside of Spain.
Brazil is home to the largest African diaspora in the world. It is home to the greatest number of Lebanese people outside of Lebanon.
The influence of Indigenous peoples in Brazilian culture is robust. Let's add one more "#1" to this amazing cultural mix. Japan.
Japanese Roots Run Deep
In 1908, the port of Santos in Sao Paulo welcomed 790 Japanese farmers and their families to Brazil. Their arrival came with the challenge of creating a better future. Japan provided this opportunity to its citizens as part of an immigration treaty with Brazil in 1907.
Immigrants considered hard work as an investment in their family's future. Japanese farmers began to introduce new agricultural concepts to Brazil. This includes irrigation systems and crop rotation.
Ultimately, many of these farmers eventually became owners of the coffee plantations they worked at.
Notable Japanese Brazilians
Japanese Brazilians set a high standard for themselves by virtue of their performance. This idea is as vital to Japanese-Brazilians today as it was in 1908.
Japanese Brazilians have made their mark in nearly every aspect of Brazilian life. Let's highlight several outstanding individuals.
Bossa Nova singer Lisa Ono, visual artist Tomie Ohtake, fashion model, MPB singer, and songwriter Fernanda Takai, and Juliana Imai.
Erica Awano, artist and author, Yuu Kamiya, manga artist and novelist, Tizuka Yamasaki, film director, and Ryot, a cartoonist.
Luiz Gushiken, former minister of communications, Juniti Saito, former commander of the Brazilian Air Force, Júlio Endi Akamine, and Roman Catholic archbishop.
A Place To Call Home
By 1932, Japanese immigration to Brazil surpassed 130,000 immigrants. Most settled in Sao Paulo, choosing Japanese communities in urban areas.
These communities merged and strengthened the homeland traditions of their native Japan.
As a result, Brazil's people of Japanese descent assimilated slowly into the greater Brazilian melting pot. The preservation of a culture within a culture is a lasting benefit.
The Sao Paulo neighborhood of Liberdade is at the center of it all. As you may have guessed, Liberdade is the Portuguese word for 'Liberty'.
Let's explore!
Liberdade
The neighborhood of Liberdade is nestled into the heart of Sao Paulo, a sprawling metropolis of 12 million people. Primarily, it's the cultural center for Japanese Brazilians, which today number more than 1.3 million descendants.
A visit to Liberdade will help you appreciate the rich history of Japan's contributions to Brazilian culture. You can experience its cuisine, and arts and crafts. In recent years, Liberdade has become a popular tourist hotspot.
Here the streets transport your perspective. Restaurants, salons, and shops of all kinds reflect Liberadade's cultural beat. Uniquely Japanese streetlights and decorations surround you.
Welcome to Liberdade, one of the best Japanese neighborhoods anywhere.
Museum of Japanese Immigration in Brazil
A short walk brings to you the Museu Histórico da Imigração Japonesa no Brasil (the Museum of Japanese Immigration in Brazil). Ideally, it's worth a leisurely visit, if for no other reason than it is the world's most expansive historical immigration museum.
You can take a virtual tour below.
It's a rare chance to understand the history of Japan in Brazil. You'll find over 100,000 objects for presentation and exhibit to be excellent.
Japan House
The nearby Japan House is also on our list of recommended places to visit in Liberdade. Presented by the Japanese government, it is one of three emporiums worldwide (along with London and Los Angeles) that combines cuisine and art. On weekends, you'll find entertainment options and retail stores, too.
A Tasty Brazilian Treat May Be Japanese
One of Brazil's tastiest treats may owe its creation to Liberdade.
The Pastel is a lightly-fried dumpling filled with your choice of a variety of meat and veggie options. Perhaps you can compare the idea (but not the delicious result) to American 'Hot Pockets'.
It is said that Brazil's pastel originated with the Chinese in the 1890s. Then, Japanese Brazilians popularized the Pastel with local bakeries during World War II. However, a mystery remains.
Was Brazil's Pastel based on an early won-ton or spring roll? Or perhaps even an Italian calzone? Who knows?
Whatever the reason, don't let that stop you from enjoying one or more! You'll find entire eateries dedicated to making this delicious snack. It's also a popular street food item, too.
Curiously, those food stands are part of Liberdade's bustling street market scene on Saturdays and Sundays. Something to plan for with your next visit to Brazil.
Music, Travel, Friends and Fun! 2022 marks Connect Brazil's 25th year.
The History of Japanese In Brazil
Did you enjoy 'The History of Japanese In Brazil'? If you did, why not join us at Connect Brazil?
Sign up for our emails on Brazilian music, travel, friends, and fun. Listen to our 'always live' streaming station and streaming music channels, always free. Visit us on Facebook, and Twitter, and browse our Lifestyle Directory for Brazilian events coast to coast.